In several news reports, Surigao Del Norte Rep. Robert Ace Barbers, chair of the House Committee on Dangerous Drugs, described the anti-drug operations under President Ferdinand "Bongbong" Marcos Jr. as "bloodless." This is misleading. 
STATEMENT
On Oct. 15, a statement quoting Barbers appeared in news reports lauding Marcos' anti-illegal drug campaign. It reads in part:
"It's a bloodless war. It shows that we can slay the dragon that is the drug menace without lives' lost."
Source: Manila Bulletin, Ranking solons hail PBBM's 'bloodless drug war' after Duterte hits House, Oct. 15, 2023;  Philippine News Agency, PBBM's bloodless drug war negates int'l watchdog's condemnation, Oct. 15, 2023; NET25, Bloodless Illegal Drug Campaign ni PBBM Suportado ng Liderato sa Kamara, Oct. 17, 2023
This statement came six days after Barbers, during a hearing of his committee on Oct. 9, reported that law enforcement agencies had seized around P30-billion worth of illegal drugs since the start of the Marcos administration. 
FACT
While Marcos has vowed that his administration's anti-drug campaign will have a "new face," centered on rehabilitation and addressing drug dependence, it is not bloodless. The Dahas Project of the Third World Studies Center in the University of the Philippines has recorded 438 drug-related killings from July 1, 2022 to Oct. 15, 2023.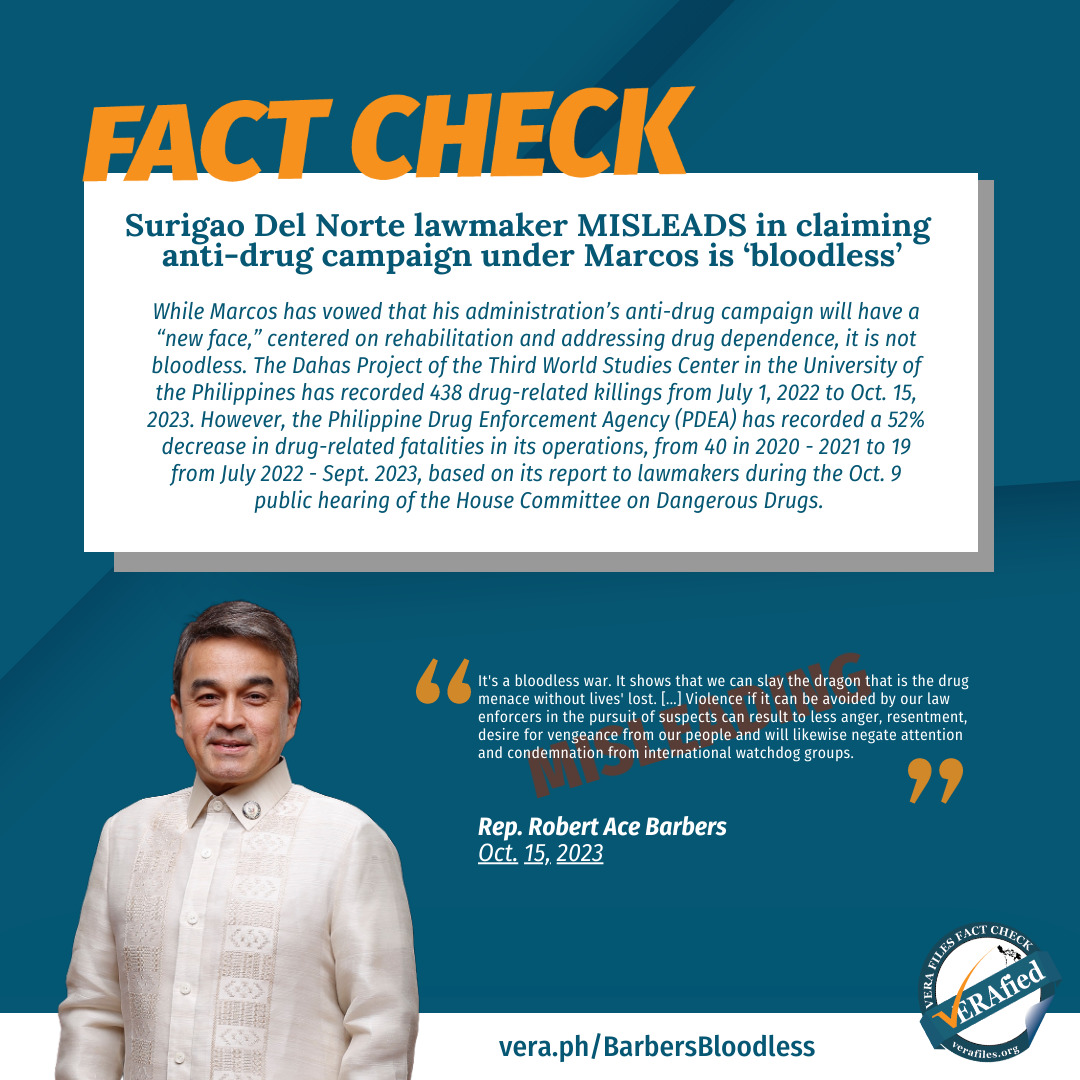 From this number, 195 state agents were involved allegedly as assailants in the reported drug-related killings, according to Dahas, which collects its data from news items citing law enforcement officers on the ground.
(See Who says Marcos war on drugs is 'bloodless'? and VERA FILES FACT SHEET: Disparity in body count of drug war victims explained) 
However, the Philippine Drug Enforcement Agency has recorded a 52% decrease in drug-related fatalities in its operations, from 40 in 2020 – 2021 to 19 from July 2022 – Sept. 2023, based on its report to lawmakers during the Oct. 9 public hearing of the House Committee on Dangerous Drugs.
BACKSTORY
In February, Barbers expressed his "full and unequivocal" support for House Resolution No. 780 that declared the "unequivocal defense" of former president Rodrigo Duterte in any investigation/prosecution of the International Criminal Court (ICC). 
(See AT A GLANCE: House resolution to support Duterte vs ICC probe)
The resolution came 20 days after the ICC Pre-Trial Chamber I allowed the prosecution to resume its investigation of the alleged extrajudicial killings in the country, related to the anti-illegal drug war campaign of the Duterte administration. 
(See ICC resumes full-blown investigation into Duterte administration's drug war) 
Have you seen any dubious claims, photos, memes, or online posts that you want us to verify? Fill out this reader request form.
Sources
CNN Philippines, Illegal drugs worth ₱30-B seized under Marcos admin, says House leader, Oct. 9, 2023
GMA News Online, Barbers: P30B illegal drugs seized since start of Marcos admin, Oct. 9, 2023
Abante, Barbers: P30B nakumpiskang droga kayang pondohan presidential bet, Oct. 9, 2023
Official Gazette of the Philippines, Ferdinand R. Marcos Jr., Second State of the Nation Address, July 24, 2023, July 24, 2023
Dahas Project, About, Accessed Oct. 25, 2023
House of the Representatives of the Philippines, Committee on Dangerous Drugs, Oct. 9, 2023