Four Facebook (FB) pages claimed that dozens of people fainted while buying Japanese mini air conditioners in Pasay. These rehashed claims from a previous scam modus are fake.
The four bogus posts carried links (kachishop.website, hanaichi.online) that ask for personal information and used edited and out-of-context photos to mislead netizens.
VERA Files Fact Check reported the emergence of similar aircon scams last year. (Watch: 'Buy one, get scammed free': Mga scam, nagkalat sa social media nitong 2022)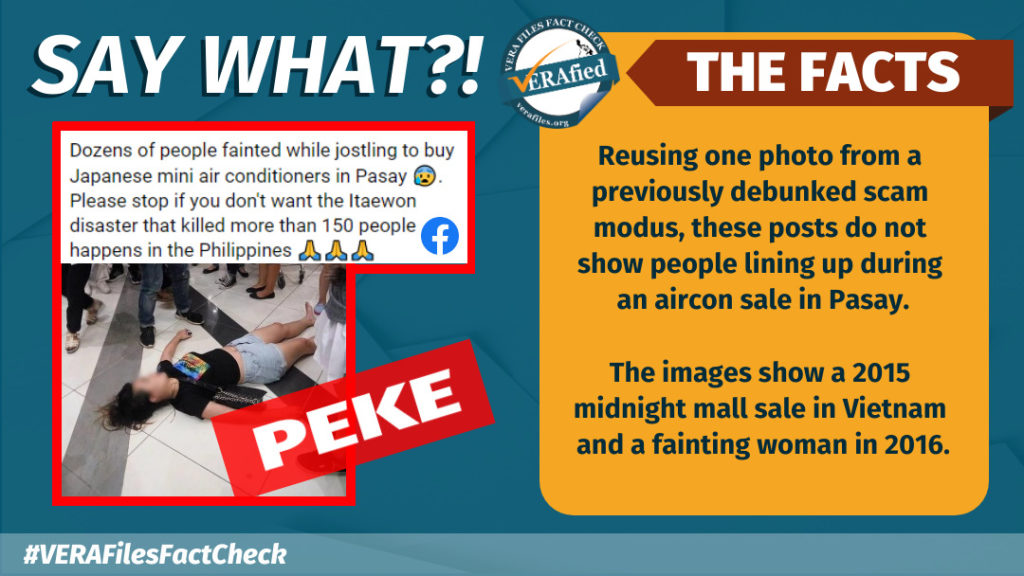 All the posts began with this statement: "Dozens of people fainted while jostling to buy Japanese mini air conditioners in Pasay." No such event happened. 
To convince netizens of this claim, the posts used four photos: 
one showing a long line inside a mall;






another showing a woman in a black shirt who fainted; and






two other photos showing the air conditioning units. 
Reverse image search of the first photo led to a Sept. 5, 2015 Facebook post by Crescent Mall in Ho Chi Minh City, Vietnam about a midnight sale. 
In the bogus posts, the text "GRAND OPENING | MINI AIR | CONDITIONER| BIG SALE | 50% OFF" replaced the one in the original Crescent Mall photo which read: "Opening April 2015 Warehouse."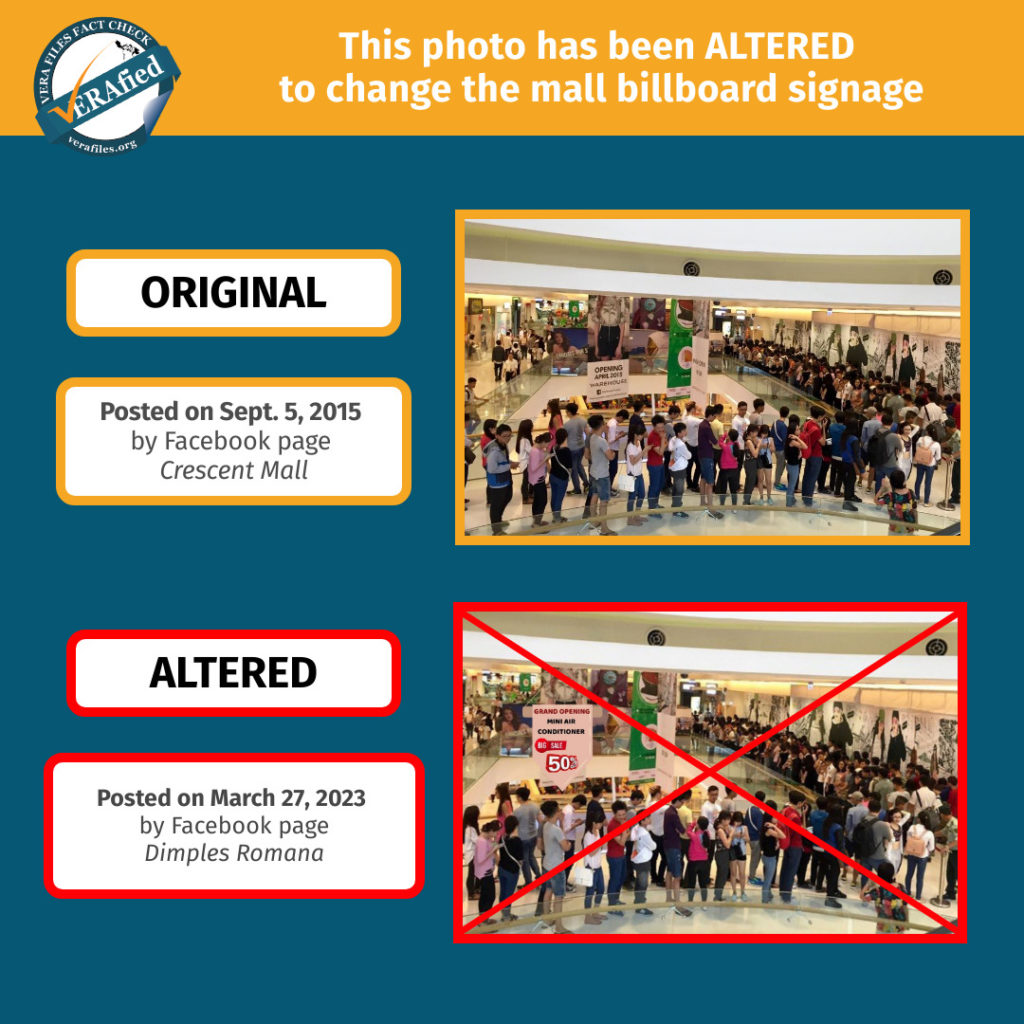 The second photo shows a woman who fainted during an Oct. 28, 2016 concert of Vietnamese pop star Noo Phuoc Thinh at AEON mall in Long Bien district, Hanoi. Other aircon scams debunked by VERA Files Fact Check used this exact same photo to mislead people. 
The bogus posts by FB pages Dimples Romana (created on Sept. 6, 2022,) Dimples Romana (created just this March 21), Christine Failagutan (created last March 1), and Cherry Rose Simon (Feb. 21, 2023) got a total of X interactions. They all appeared in March.
Three of the four FB pages used photos of Vietnamese model Thái Thảo Nguyên dated Jan. 14 and Jan. 31, 2019 as profile pictures.
Have you seen any dubious claims, photos, memes, or online posts that you want us to verify? Fill out this reader request form or send it to 'VERA, the truth bot' on Viber.
(Editor's Note: VERA Files has partnered with Facebook to fight the spread of disinformation. Find out more about this partnership and our methodology.)