A scam website is peddling a product supposedly developed by cardiologist Doc Willie Ong that can cure blood pressure-related conditions. 
VERA Files Fact Check has been requested to verify the website illicitly using the name of ABS-CBN News Channel (ANC) that supposedly ran an article based on an interview with Ong talking about the drug.
The fake article bore the headline: "Sensation! Professor Willie Ong has found a way to cure hypertension (Get rid of blood pressure problems) once and for all in two weeks!"
It featured a fake interview between Ong and talk show host Boy Abunda where the doctor allegedly said he invented a drug called "Dianorm", that cures hypertension and clogged blood vessels in just two weeks.
While another drug with the same name has been approved by the Food and Drug Administration (FDA) for treatment of type 2 diabetes, this particular heart supplement is not on the approved food and drugs listed on the FDA's Verification Portal.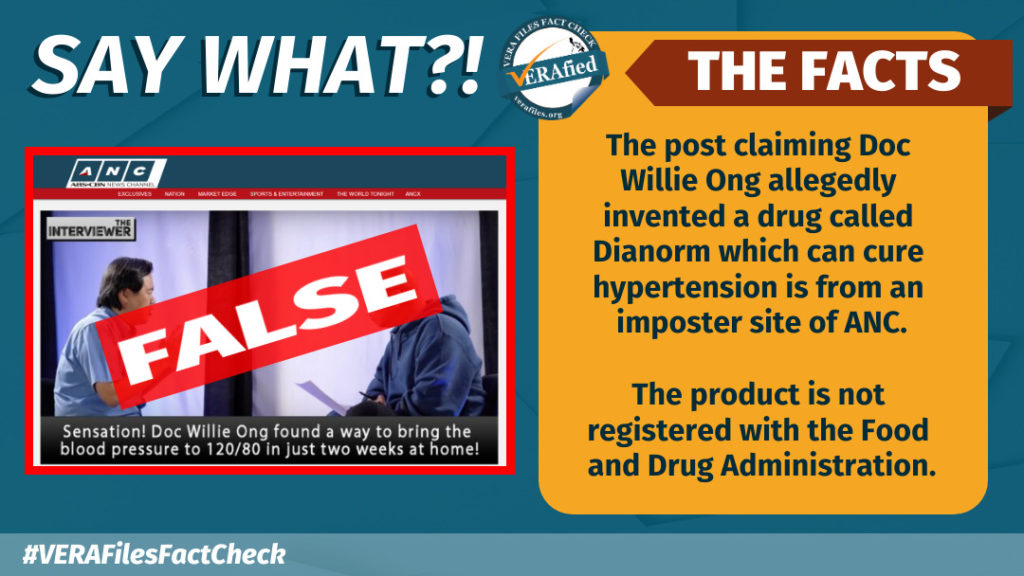 Impostor website already debunked
This scam site, carrying a link that starts with healthnation-asia.com, imitates ANC's website layout and is very similar to another spurious website that VERA Files Fact Check debunked early this year. (Read Impostor site posts FAKE 'ANC' story on 'instant cure' for cataract, glaucoma)
ANC, with the legitimate website link news.abs-cbn.com/anc, told VERA Files in a Jan. 24 email that the "images are fake and do not belong to ANC."
The images in the fake story were screenshots taken from Ong's April 2022 interview with Abunda when the doctor was running for vice president. Dianorm was never mentioned in the interview.
Tips to avoid health scams
Aside from advertising the fraudulent heart supplement, the scam website also attempts to sway potential victims into buying the product by offering a huge discount and a chance to receive the product through a so-called giveaway.
The Department of Health has warned the public against entertaining such ads and listed certain red flags to watch out for:
Certain keywords like "scientific breakthrough, miracle cure, all natural without side-effects or ancient remedy" are used






Claims for quick cures; such as cancer prevention, good for arthritis, good for diabetes or good for hypertension, should be highly suspect






Product is advertised as a quick and effective cure-all for a wide range of illnesses.
Have you seen any dubious claims, photos, memes, or online posts that you want us to verify? Fill out this reader request form or send it to 'VERA, the truth bot' on Viber.
(Editor's Note: VERA Files has partnered with Facebook to fight the spread of disinformation. Find out more about this partnership and our methodology.)