A Filipino Facebook (FB) page claimed that the Indonesian navy has blown up a Chinese vessel illegally fishing in their country's waters. This is not true. The burning boats shown in the video were not Chinese vessels.
On March 30, the FB page published an eight-minute video with the following false headline: "Naku po! Indonesian navy niratrat at pinasabug (sic) ang isang Chinese fishing vessel – China di nakapalag (Oh, no! The Indonesian navy has fired at and blasted a Chinese fishing vessel – China not able to retaliate)"
The video's caption further stated that the recent incident occurred after 23 foreign fishing boats were seized by Indonesia for illegally entering their territory to fish. Indonesia indeed blew up 10 Malaysian and 13 Vietnamese boats for illegal fishing back in 2016 – but there was no mention of a Chinese ship seized then. And there are no fresh reports of such an incident.
In an attempt to support its false claim, the video showed these two images:
A photo of Indonesian authorities standing on a boat behind a line of burning ships and;






Another photo of four boats in a row burning on the water.
These photos do not feature a Chinese vessel. Also, there are no recent reports of Indonesia attacking any Chinese ship.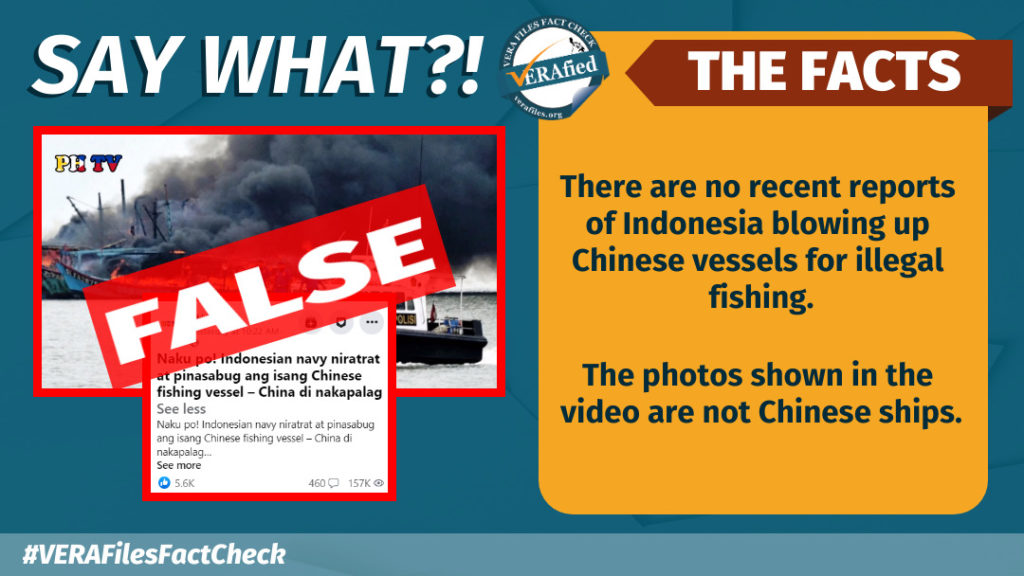 One image which featured Indonesian authorities behind burning ships was an April 2017 Agence France-Presse photo taken after the Indonesian government destroyed seven of the 75 fishing vessels it seized that year for illegal fishing.
Another one which showed a row of burning boats was taken from a news report that featured an April 2016 Reuters photo. The report said 28 illegal foreign fishing boats, including Malaysian and VIetnamese, were sunk by Indonesian authorities. 
The video emerged five days after diplomats of the Philippines and China talked about "maritime cooperation" and "managing tensions" amid border disputes in the South China Sea.
FB page PH TV (created on Nov. 1, 2021) published the video, garnering over 5,600 reactions, 459 comments, 215 shares and 157,000 views. It was also published on its YouTube channel with the same name and could have reached over 314,000 users.
Have you seen any dubious claims, photos, memes, or online posts that you want us to verify? Fill out this reader request form or send it to 'VERA, the truth bot' on Viber.
(Editor's Note: VERA Files has partnered with Facebook to fight the spread of disinformation. Find out more about this partnership and our methodology.)