A person with an unhealthy lifestyle is more likely to suffer from heat stroke, an alternative medicine practitioner claimed in a Facebook (FB) Reel. This needs context as there are other factors that increase the risk of body overheating.
"Unhealthy lifestyle po. iyan yung kadalasang nangyayari kung bakit nai-istroke at hindi dapat sinisisi lang yung pagpapaaraw (Unhealthy lifestyle, that's a frequent reason why people get [heat] stroke and being under the sun shouldn't be the only thing to blame," the Reel, published on March 14, claimed.
It continued to gain traction as the weather bureau announced that the warm/dry season officially started last March 21 and advised the public to take precautionary measures to minimize heat stress.
According to the Cleveland Clinic, people who are obese, have poor physical conditioning or are not used to hot conditions are at greater risk for heat stroke. But even athletes, soldiers, and people with occupations that require physical labor are also in danger, it added.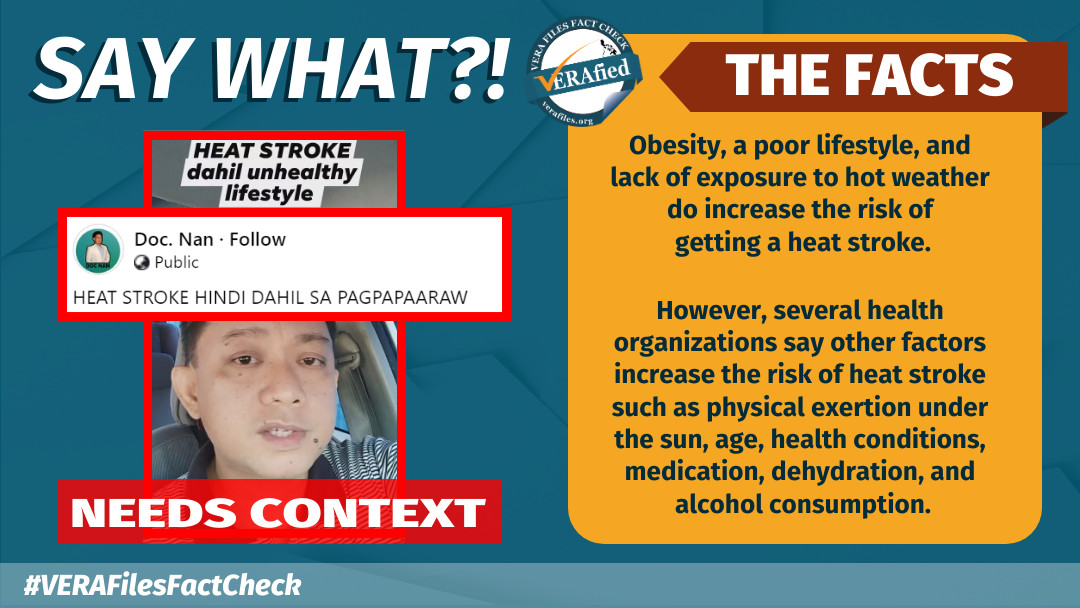 Meanwhile, the Australian Better Health Channel, the U.S. Centers for Disease Control and Prevention (CDC) and the Cleveland Clinic all noted that certain people are susceptible to heat stroke:
Children up to four years of age;
Senior citizens over the age of 65;
Pregnant and breastfeeding mothers;
Those with heart or kidney disease, diabetes, fever, or cystic fibrosis
People who take medications that inhibit the body's ability to lose heat, such as medicine for Parkinson's disease, certain tranquilizers, and blood pressure medications;
Persons without access to air conditioning; and
Those with a past history of heat stroke.
Drinking alcohol, dehydration, and wearing heavy clothing such as protective gear can also raise the risk of heat stroke.
Heat stroke happens when the body cannot cool itself down, the U.S. CDC National Institute for Occupational Safety and Health explains.
There are two types of heat stroke: exertional, which is caused by too much physical activity under the sun; or non-exertional, caused by age or health conditions.
The FB Reel has so far drawn a total of 3,800 reactions, 93 comments, and 512 shares.
Have you seen any dubious claims, photos, memes, or online posts that you want us to verify? Fill out this reader request form.
(Editor's Note: VERA Files has partnered with Facebook to fight the spread of disinformation. Find out more about this partnership and our methodology.)