A video circulating on social media carried a misleading claim about divorce finally being "approved" in the Philippines.
The video, posted by a TikTok user on Feb. 24 and re-uploaded on Facebook the next day, contained text that read: 
"Sa wakas approved na ang divorce | Sa nga (sic) gustong makawala jan magdiwang na tayo | Ang tagal ko tong hinintay finally (Finally, divorce is approved | To those who want to be free, let's celebrate | I've waited so long for this, finally)."
The TikTok user also wrote a warning not to abuse the option to divorce.
A divorce bill passed only on the committee level at the House of Representatives recently. It has to undergo several more steps to become a law. 
The video appeared a day after the House Committee on Population and Family Relations  approved in principle eight bills on divorce. The misleading TikTok video featured a GMA News report on the matter.
Proposals to introduce divorce have been filed as early as 2005 during the 13th Congress. Aside from the Vatican, the Philippines is the only country where divorce is disallowed.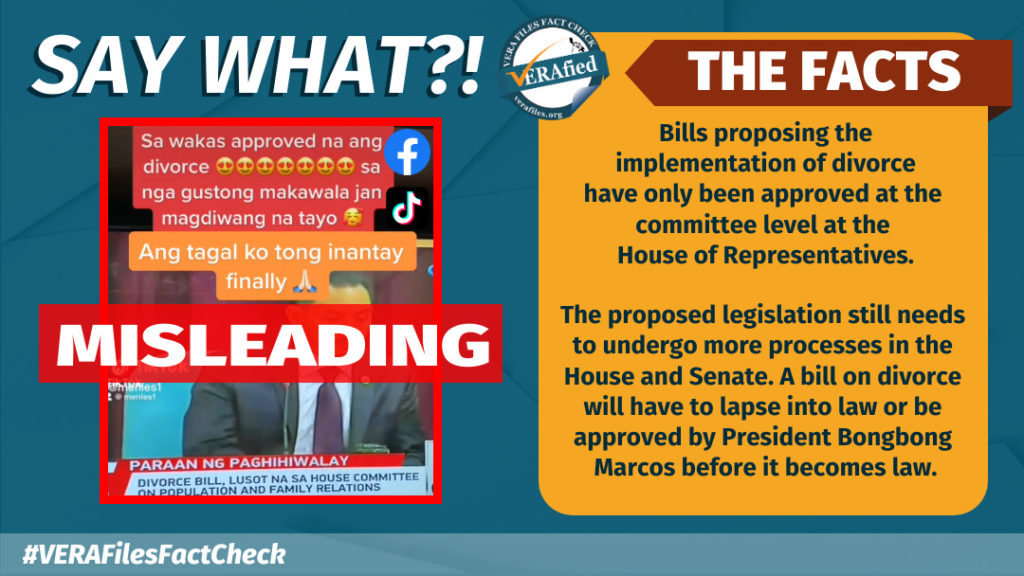 When a bill is filed in the House, it is referred to the appropriate committee for first reading. The committee determines if a public hearing is necessary, consolidates similar bills, suggests amendments and proposes a substitute bill, when needed. It then creates a report and passes the bill for second reading, the House of Representatives' legislative process states. 
A bill undergoes further amendments, sponsorships, and debates on second reading. It is  approved for third reading once members of the House agree in plenary. 
The third reading incorporates all amendments made to the bill. A bill must get majority approval from all the members of the House before it is transmitted to the Senate, where it will undergo the same legislative process. 
A conference committee is called upon once there are disagreements on the provisions crafted by both houses of Congress. Otherwise, the Senate president and the Speaker of the House sign on the bill and wait for the president to either approve, veto, or let the bill lapse into law after 30 days, according to the Official Gazette.
The misleading video got a total of 1.1 million interactions on FB and 1.58 million interactions on TikTok. Some netizens have asked whether the claim is true, while others had mixed opinions about the implementation of divorce.
Have you seen any dubious claims, photos, memes, or online posts that you want us to verify? Fill out this reader request form or send it to 'VERA, the truth bot' on Viber.
(Editor's Note: VERA Files has partnered with Facebook to fight the spread of disinformation. Find out more about this partnership and our methodology.)