A Facebook (FB) user published a Reel claiming a virus that turns people into zombies has spread in China. Not true. 
"Sinabi pang may zombie outbreak na raw sa China pero tinatago lang ito ng gobyerno nila para hindi mag-panic ang mga tao (It's been said that there's a zombie outbreak in China but their government is covering it up it so people would not panic)," part of the video's introduction claimed. 
There is no such outbreak in China. The same claim has been debunked by fact checkers from Agence France-Presse, the Associated Press, and PolitiFact.
Video news reports shown in the April 5 Reel were twisted to incite fear about a "zombie virus," which does not actually turn people into the undead.
In a 2023 research published in the Viruses journal, scientists used the term to refer to 13 virus strains that are tens of thousands of years old which have since been revived and studied. These were discovered in permafrost that has started to melt in Siberia as a result of climate change.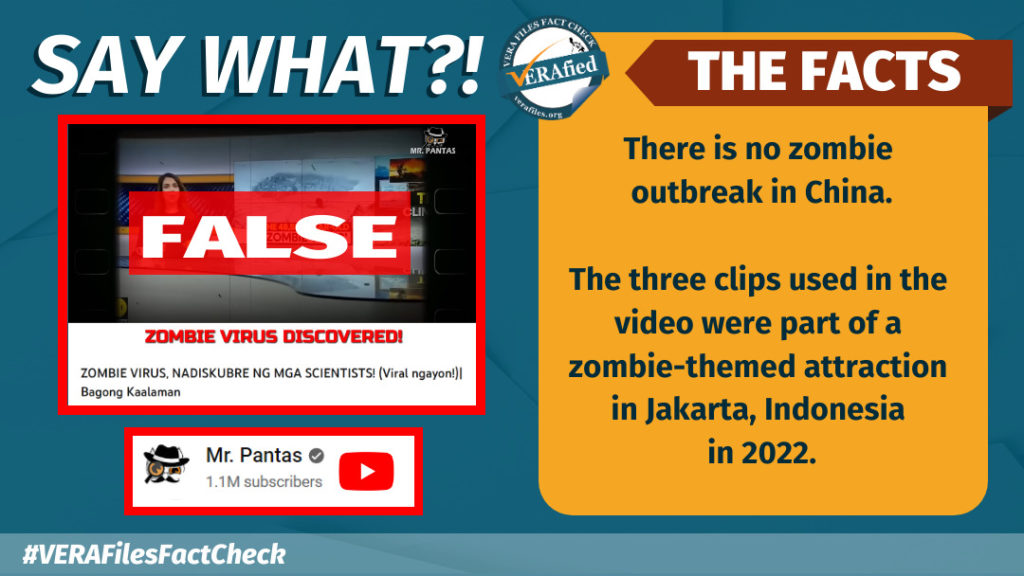 Additionally, three clips briefly flashed in the Reel only show "Train to Apocalypse," a zombie-themed attraction in 2022 hosted by the Jakarta Light Rail Transit and event organizer Pandora Box in Indonesia. 
On TikTok, the hashtag #traintoapocalypse shows netizens' videos about the event, which ran from August to September last year.
A TikTok search shows another angle of the video, uploaded by TikTok user @stephanie.au on Aug. 14, 2022. Captioned "dikejar kejar zombie seru juga deg degannya (being chased by zombies is also exciting)," It contained the hashtags #traintoapocalyse and #zombielrtjakarta.
Another clip of a zombie running by the side of a train came from a video uploaded by TikTok user @thaihits on Aug. 9, 2022 which used the hashtag #traintoapocalypse. 






TikTok user @thaihits also uploaded a video of a walking zombie on Aug. 18, 2022. The video was captured in Indonesia, as seen through the "bukan access (no access)" Indonesian signage written on the door. 
The false video emerged the same week similar claims of a zombie outbreak in China made the rounds in the United States
YouTube channel Mr. Pantas (created on May 5, 2020)  first uploaded the video on Dec. 12, 2022, getting over 714,337 interactions. An FB user reshared part of the video as a Reel, garnering 446,735 interactions. 
Have you seen any dubious claims, photos, memes, or online posts that you want us to verify? Fill out this reader request form or send it to 'VERA, the truth bot' on Viber.
(Editor's Note: VERA Files has partnered with Facebook to fight the spread of disinformation. Find out more about this partnership and our methodology.)