A video on Facebook (FB) claimed that the United States (U.S.) and the Philippines are planning to strike a Chinese vessel sailing on the West Philippine Sea in a "joint operation" that will involve 17,000 troops. This is misleading. The simulation drill, which is part of the annual Balikatan Exercises, will target a decommissioned fishing boat.
Passed off as breaking news, the March 15 video had this headline: "RERESBAK NA! US At Pinas MAGPAPALUBOG NA Ng BARKO Sa WEST PHILIPPINE SEA (RETALIATING NOW! The U.S. and the Philippines will sink a ship in the West Philippine Sea)"
To imply that the target ship is from China, the video's thumbnail showed a photo of Chinese President Xi Jinping superimposed on a March 5 stock photo of the USS Normandy. It also bore the text: "CHINA NANGINGINIG NA! (China is shaking)"
The video's voice-over did not back up its headline's claim but instead quoted Balikatan 2023 spokesperson Col. Michael Logico that the upcoming 2023 Balikatan Exercises will be aimed at maritime and coastal defense, and maritime domain awareness. It will be joined by 17,000 U.S. and Philippine troops, along with a hundred more Australian soldiers.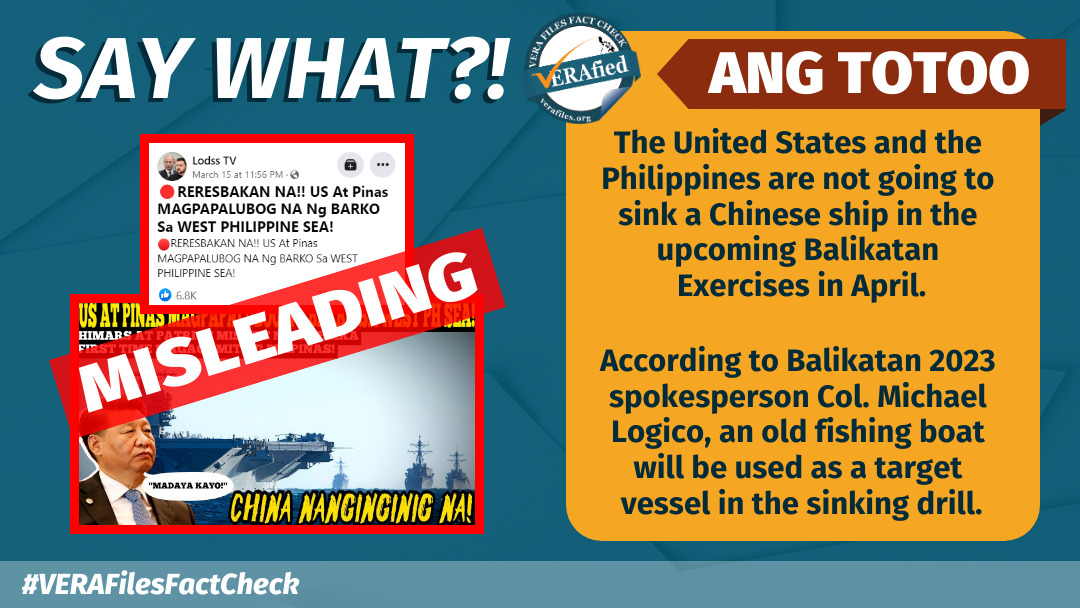 Amid border tensions with China, Logico said in a March 15 press briefing that this year's Balikatan will use a "decommissioned, old fishing boat" that was acquired as a target vessel for the upcoming sinking drills.
"We will be sinking a target vessel using a combination of artillery naval gunfire and aviation weapons … a combination of Philippine Air Force and US Air Force rockets and bombs, and our frigates," Logico said.
The military exercise will be conducted in Zambales near the base of the Naval Education, Training and Doctrine Command within the 12-nautical mile territorial waters of the country, according to the Balikatan spokesperson.
FB page Lodss TV (created on March 10) uploaded the misleading video, garnering over 6,800 reactions, 350 comments, 620 shares and 146,000 views. The same video was also published by YouTube channel Terong explained which got more than 840 interactions and 38,000 views.
Have you seen any dubious claims, photos, memes, or online posts that you want us to verify? Fill out this reader request form.
(Editor's Note: VERA Files has partnered with Facebook to fight the spread of disinformation. Find out more about this partnership and our methodology.)