Another scam is targeting netizens, this time claiming fast food giant Jollibee is hosting a "lucky draw" for P7,000 in line with its "44th anniversary." The links, circulating on Facebook (FB) and FB Messenger, lead to bogus websites.
VERA Files Fact Check debunked a scam with the same modus earlier this month. (Read 'Petron' 7k anniversary giveaway is FAKE)
Since January up till now, FB netizens have been sharing the links and posting screenshots of the "giveaway" to either win, warn others, or ask if there is such a promotion.
The fake websites bear the title: "Jollibee 44th Anniversary Lucky Draw."
Similar to the Petron giveaway scam, netizens must answer questionnaires, play interactive games, share the links and enter their home addresses to "get the prize."
Last February, Jollibee warned the public against these "fraudulent online promos" that use its trademarks.
The fast food chain further disowned the circulating links in the comments section saying these are not official or affiliated with them. Any official promo announcements are posted on their official websites and social media pages.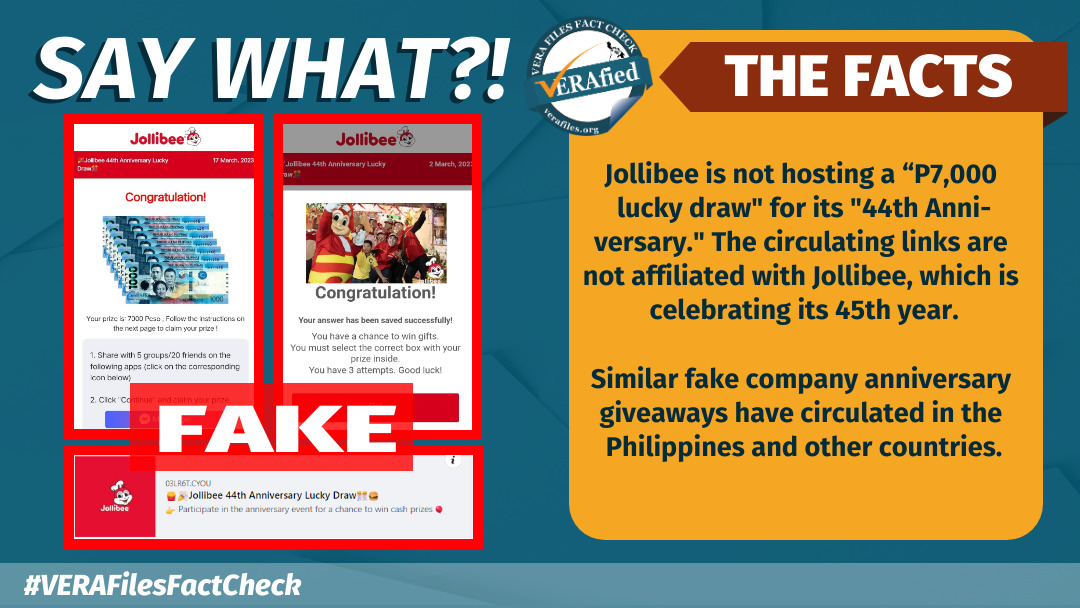 Jollibee is celebrating its 45th anniversary this year, not 44th, as claimed, but a "45th Anniversary" version of the scam did circulate last February.
The bogus websites bore the domain names: pf7bg.cn, widtco.cyou, hbpnnz.cyou, jokehill.top, akzdyvv.cn, 8yue22.cn, gwxidb.cyou, xoaylrrp.cn, originalintention.top, greedyscrape.cn, 4MRQ1.CYOU, 07XC2S.CYOU, 0AOGAL.CYOU and 03LR6T.CYOU. The first three were also used in the Petron scam.
These links were spread in January after Jollibee released its holiday promos. They resurfaced this March after the posting of the company's 45th Anniversary Anthem music video.
According to March 16 reports, Jollibee Foods Corp. will open 600 new stores in 2023.
Fake websites pretending to be companies celebrating their "anniversaries" are not new and have also circulated in other countries like Africa, India and Indonesia.
VERA Files Fact Check also flagged previous scams shared via private messaging platforms. (Read Web links to 'PHLPost' subsidy a SCAM)
Have you seen any dubious claims, photos, memes, or online posts that you want us to verify? Fill out this reader request form.
(Editor's Note: VERA Files has partnered with Facebook to fight the spread of disinformation. Find out more about this partnership and our methodology.)