Two YouTube videos claimed that President Ferdinand Marcos Jr. had filed charges against Sen. Francis "Chiz" Escudero and ordered that the senator be removed from his post. Both claims are false. 
Marcos said the government had lodged cases against rice smugglers, not Escudero. Marcos also has no power to remove an incumbent senator. 
First uploaded on Oct. 6, the video bore the headline:
"Just Now : Wasak at NAPAHlYA si Sen CHIZ ESCUDERO walang kawala sa Utos ni PresMarcos (sic) Media Natameme (Sen. Chiz Escudero was ruined and humiliated. No escape from the orders of President Marcos. Media was dumbfounded)."
Its thumbnail featured photos of Marcos and Escudero and a text saying: "Hala kinasuhan na! Ito ang bangungot ni Sen. Chiz (Oh no! A case was filed! This is the nightmare of Sen. Chiz)."
Another video posted a day later carried a similar headline and thumbnail, with the addition of a text that read: "Sibak sa senado (Removed from the Senate)!"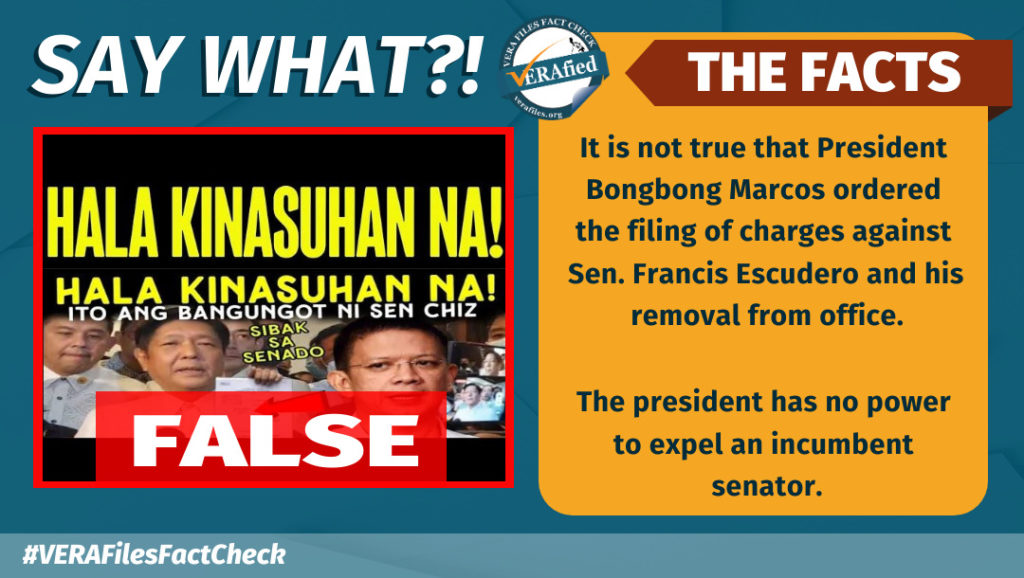 There are no cases currently filed against Escudero. In an Oct. 4 speech, Marcos just said the government had already filed charges against three firms linked to rice smuggling.
Marcos also made no orders to remove Escudero from his post nor does the president have the power to do so. Only senators can expel their fellow member after a two-thirds vote. 
The video emerged weeks after Escudero criticized the administration over the slow prosecution of agricultural hoarders and smugglers who are blamed for the recent spike in rice prices.  
The erroneous video merely showed clips from an Oct. 4 Bombo Radyo news report about the government's distribution of rice subsidies and smuggled rice to low income households. The rest of it played a commentary from a previously fact-checked vlogger over Escudero's statements on the rice smuggling issue.
Uploaded by previously fact-checked YouTube channels PHILIPPINES TRENDING NEWS and WANGBUDISS TV, the video received 30,843 views, 575 likes and 145 comments.
Have you seen any dubious claims, photos, memes, or online posts that you want us to verify? Fill out this reader request form or send it to VERA, the truth bot on Viber.

(Editor's Note: VERA Files has partnered with Facebook to fight the spread of disinformation. Find out more about this partnership and our methodology.)