A local YouTube video claimed that the United States (U.S.) has declared war on Palestine amid the ongoing armed conflict between Israel and the militant group Hamas. This is not true. The U.S. is only sending military aid to Israel. 
Uploaded two days after fighting between Israel and Hamas escalated following the surprise attack by the militant group, the video continued to gain traction among netizens. It bore this headline:
"ETO ANG DAHILAN NG GYERA SA ISRAEL! PBBM NAPADASAL! PROPESIYA NG TEMPLO! AMERICA NAGDEKLARA NA GYERA (This is the reason for the war in Israel. President Bongbong Marcos prayed. Prophecy of the temple! America declared war)."   
The video played a clip of U.S. President Joe Biden's speech condemning the attack on Israel as well as a news report from local radio station DZBB about the armed conflict. But at the video's 0:56 mark, a narrator claimed that the U.S. had declared war against Palestine: 
"Kaya napilitan magdeklara ng giyera ang US para tapusin ang Palestine dahil sa dami ng dinamay na sibilyan sa lugar ng Israel (The U.S. was forced to declare war to end Palestine because of the many civilians affected in Israel)." 
There is no such declaration. President Biden made an eight-hour visit to Tel Aviv last week in a show of support for Israel, where he also announced $100 million in humanitarian aid to people in Gaza and the West Bank. The country is also sending military aid to Israel, including ammunition, warships and aircraft.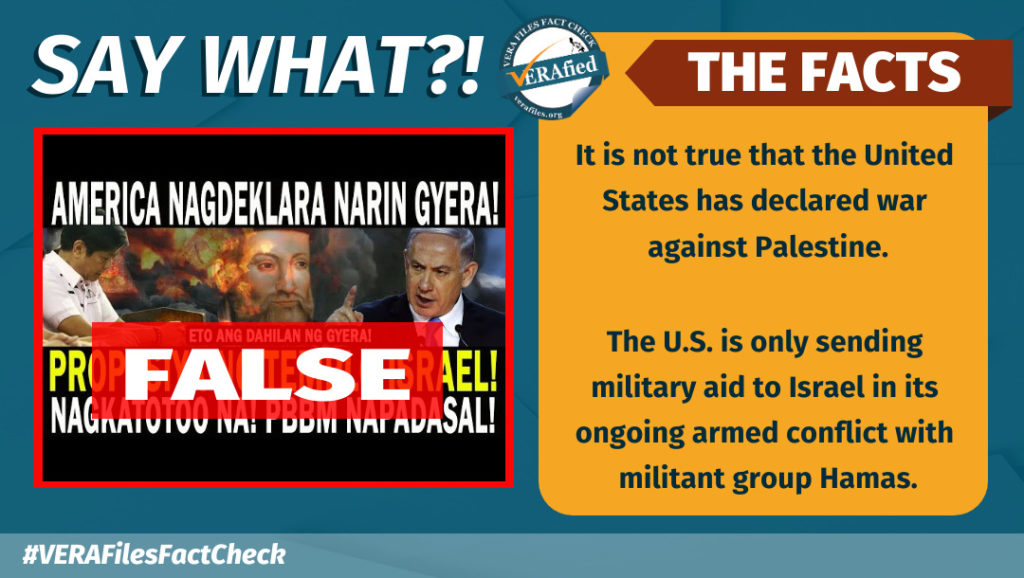 Biden is currently requesting $14.3 billion in additional defense funding for Israel. In 2016, the U.S. and Israel signed a $38 billion military aid agreement, the third 10-year accord between the two allies.
On Oct. 17, the Pentagon announced that it placed 2,000 U.S. personnel on a "heightened state of readiness" for potential deployment to Israel amid Tel Aviv's heightened war with Hamas but no order to deploy troops to the region has been issued as of this writing.
Should U.S. troops be deployed, the Pentagon said they would not engage in combat but only perform support duties to Israeli forces, including medical, surveillance and transportation assistance. 
The ongoing conflict is between Israel and Hamas and does not cover the entire Palestine. 
Hamas is in control of Gaza, one of two Palestinian territories occupied by Israel, along with the West Bank, portions of which are governed by a group called the Palestinian Authority. 
Uploaded by YouTube channels Boss Balita TV and BALITA NI JUAN, the video with a false claim currently has 156,920 views, 3,400 likes and 407 comments. 
Have you seen any dubious claims, photos, memes, or online posts that you want us to verify? Fill out this reader request form or send it to VERA, the truth bot on Viber.

(Editor's Note: VERA Files has partnered with Facebook to fight the spread of disinformation. Find out more about this partnership and our methodology.