Sen. Ronald "Bato" Dela Rosa has claimed that local government units (LGUs) "have the discretion" in using confidential funds. This is wrong. 
Dela Rosa took up the cudgels for Vice President Sara Duterte, who was reported to have spent P2.69-billion confidential funds when she was mayor of Davao City from 2016 to 2022. 
Joint Circular (JC) 2015-01 prescribes specific activities where confidential funds can and cannot be used. It does not give LGUs discretion to spend confidential funds the way they want to.
(Read VERA FILES FACT CHECK: Bato Dela Rosa's claim that opposition 'did not scrutinize' OVP 'confidential funds' under Robredo needs context) 
STATEMENT 
In an interview on DZBB Super Radyo 594khz on Oct. 8, anchor Nimfa Ravelo asked the senator if the use of confidential funds by LGUs should be "clipped," as suggested by Senate President Miguel Zubiri. 
Dela Rosa answered that LGUs have "fiscal autonomy" through their respective city or provincial councils to decide whether to allocate confidential funds in the budget. 
He added:
"[J]ust like Davao City, malaki 'yung kanilang confidential fund na binibigay dahil nakikita din ng konseho ng LGU na 'yan na kailangan talagang suportahan natin itong local government with this kind of money para magamit ito… 

 

Magtanong ka sa lahat ng mga armed forces, lahat ng military, police intelligence unit[s] na nasa Davao noon. Nakatanggap kami ng suporta in the form of gasolina. No'ng pulis pa ako, nakatanggap kami ng bigas monthly. Saan ba kinukuha 'yan?"

 

(Just like in Davao City, the confidential funds that they give is huge because the council of the LGU sees that the local government really needs to be supported with this kind of money that they can use.

 

Ask the armed forces, military, police intelligence unit[s] in Davao before. We received support in the form of gas. When I was still a police officer, I received rice monthly. Where do you get that?)

 

Source: DZBB Super Radyo 594khz, DOBOL B BANTAY BALITA SA KONGRESO, Oct. 8, 2023, watch from 26:35 to 27:54
Ravelo then corrected Dela Rosa that the benefits he cited do not come from confidential funds but were line items in the budget. He responded:
"Titingnan natin. Kaya nga confidential dahil sila ang may discretion kung saan gagamitin."

 

(Let's see. That's why it's confidential because they [LGUs] have discretion where to use [the funds].)

 

Source: watch from 28:04 to 28:12
FACT
 Under JC 2015-01, any national government agency, including LGUs, cannot use confidential and intelligence funds (CIFs) for salaries, wages or other benefits of government officials and employees, unless authorized by law. 
The circular also prohibits the use of CIFs for representation, consultancy fees or entertainment expenses and for construction or acquisition of buildings or housing structures.
JC 2015-01 was issued by the Commission on Audit (COA), Department of Budget and Management (DBM), Department of Interior and Local Government and the Government Commission for Government-owned or -controlled Corporations in January 2015.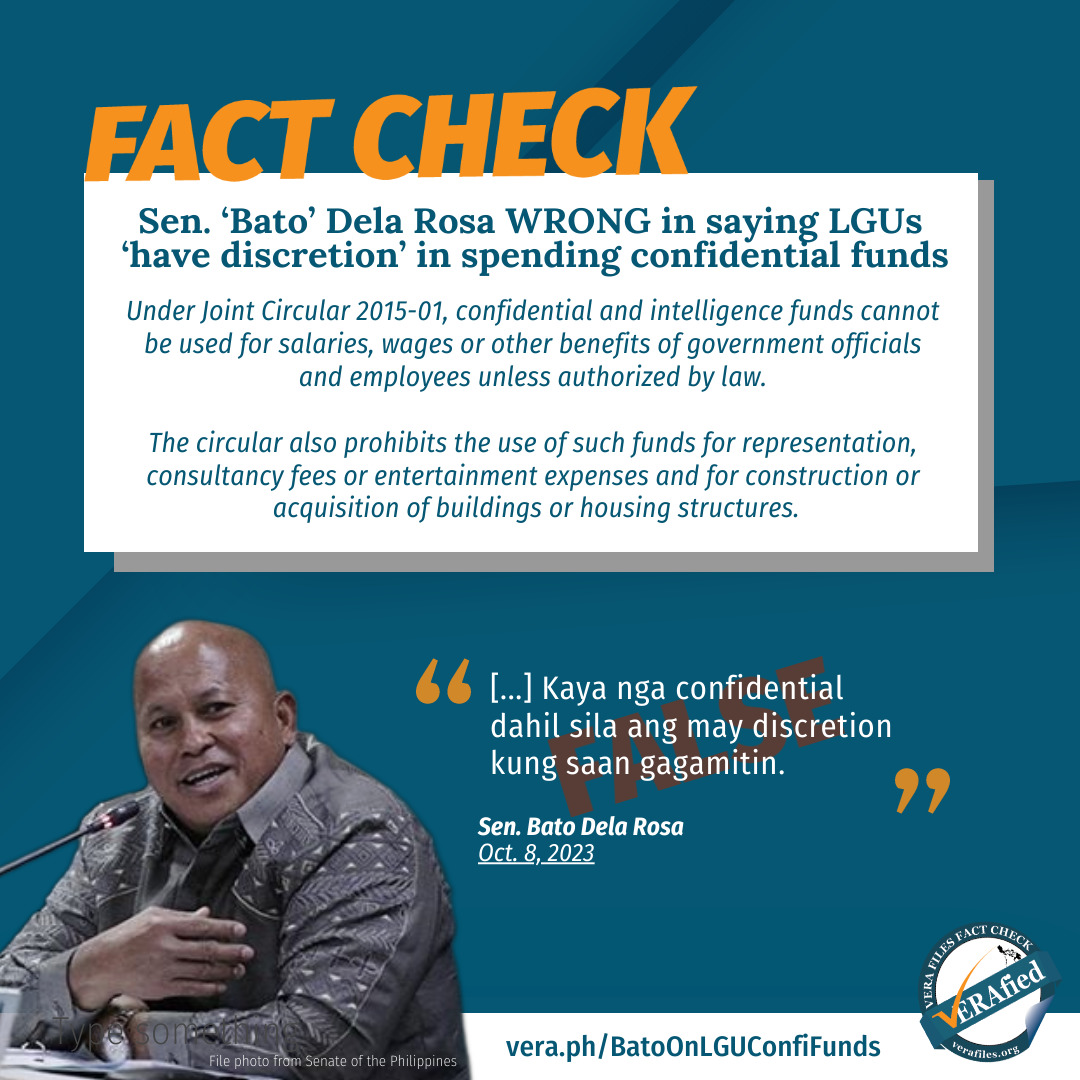 Confidential funds are lump-sum amounts provided for expenses related to "surveillance activities in civilian government agencies" in the General Appropriations Act to support their mandate or operations. (Read VERA FILES FACT SHEET: Three things you need to know about confidential and intelligence funds)
These include purchase of information related to national security and peace and order; rental of transport vehicles and safehouses; and prevention of illegal activities that "pose a clear and present danger" to personnel or other resources under the agency protection in coordination with appropriate law enforcement agencies.
It is different from a "discretionary fund," which the DBM defines as "expenditure items that can be changed or adjusted depending on government spending priorities, available fiscal space and absorptive capacity of agencies." 
The fund is covered under "Extraordinary and Miscellaneous Expenses" (EME), based on a September 1985 circular of COA on the Amended Rules and Regulations on the Prevention of Irregular, Unnecessary, Excessive or Extravagant Expenditures or Uses of Funds and Property.  
EMEs are for meetings, seminars, conferences, memberships to government organizations, professional organizations recognized by the Professional Regulations Commission, or membership to the Integrated Bar of the Philippines, subscription services for informative materials, among others.
Have you seen any dubious claims, photos, memes, or online posts that you want us to verify? Fill out this reader request form.
Sources 
On Davao City's confidential funds 
Commission on Audit, COA-DBM-DILG-GCG for GOCCs-DND Joint Circular No.2015-01 – January 8, 2015, Feb. 13, 2015
Department of Budget and Management, EXPENDITURES Sec. 15. Use of Government Funds. Government funds shall be utilized in accordance with the appropriations authorized, accessed Oct. 12, 2023 
Supreme Court of the Philippines E-Library, G.R. No. 238940, accessed Oct. 17, 2023
Official Gazette of the Philippines, Republic Act No. 7160,  accessed Oct. 12, 2023