Multiple news reports quoted Iloilo Rep. Janette Garin, deputy majority leader at the House of Representatives, saying that "not a single life" of suspected drug traffickers, peddlers and users was taken in the course of anti-drug operations under President Ferdinand Marcos Jr.'s administration. 
This is misleading. 
STATEMENT
Lauding the "humanity" of Marcos' strategy in the fight against illegal drugs, Garin, a former secretary of the Health department, said: 
"Not a single life of a drug user, peddler, or trafficker was taken. It's a testament to the belief that bloodshed isn't the answer to this crisis. This administration will not stand by and watch small-time drug users and street pushers face dire consequences while the major importers and suppliers of these illegal drugs operate with impunity."
Source: Abante Tonite, Anong sey mo Digong? PBBM suwabe diskarte sa giyera vs droga, Oct. 15, 2023; Manila Bulletin, Ranking solons hail PBBM's 'bloodless drug war' after Duterte hits House, Oct. 15, 2023; NET25, Bloodless Illegal Drug Campaign ni PBBM Suportado ng Liderato sa Kamara, Oct. 17, 2023
The same news reports quoted Surigao Del Norte Rep. Robert Ace Barbers, claiming that Marcos' anti-drug campaign is "bloodless." 
(Read VERA FILES FACT CHECK: Surigao Del Norte lawmaker MISLEADS in claiming anti-drug campaign under Marcos is 'bloodless')
FACT
The Philippine Drug Enforcement Agency reported on Oct. 9 that the number of deaths from the agency's anti-drug operations has gone down from 40 in 2020 – 2021 to 19 in 2022 – 2023. 
Moreover, the Dahas Project of the Third World Studies Center in the University of the Philippines recorded 438 drug-related killings from June 30, 2022 to Oct. 15, 2023. According to its database, 195 of these involved state agents and 145 had "unknown" assailants who remain at large.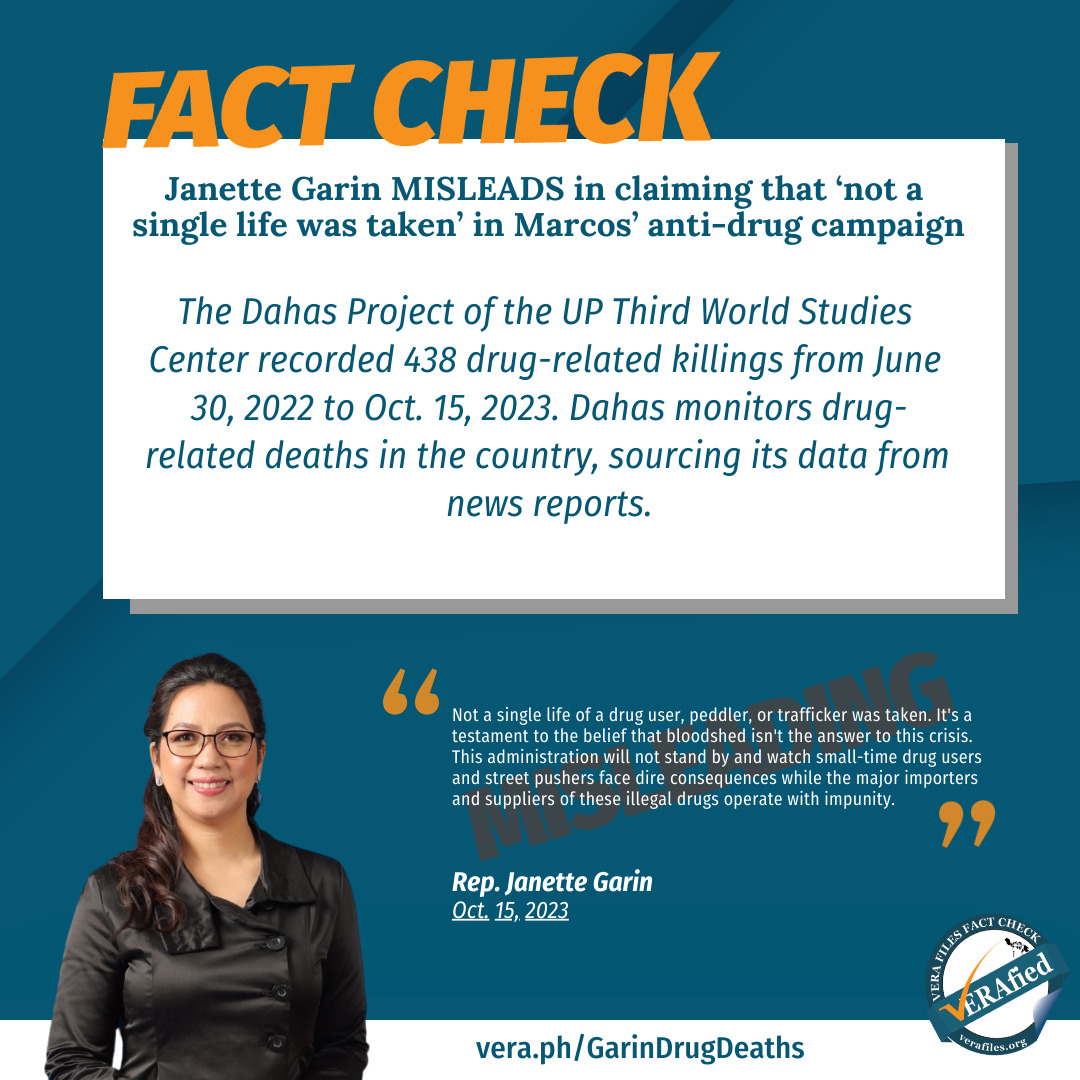 The Dahas Project monitors drug-related deaths in the country, sourcing its data from news reports that cite law enforcement officers. 
(See Who says Marcos war on drugs is 'bloodless'? and VERA FILES FACT SHEET: Disparity in body count of drug war victims explained) 
Have you seen any dubious claims, photos, memes, or online posts that you want us to verify? Fill out this reader request form.
Sources
Inquirer.net, PNP: 46 killed in drug war under Marcos 'very minimal', Nov. 16, 2022
CNN Philippines, PNP records 46 killed in drug operations under Marcos, Nov. 14, 2022
One PH, PNP: 46 Killed In Drug War Under Marcos, Nov. 15, 2022
Dahas Project, About, accessed Oct. 25, 2023
House of the Representatives of the Philippines, Committee on Dangerous Drugs, Oct. 9, 2023