A video posted on Facebook (FB) and YouTube claimed that the raids ordered by President Ferdinand Marcos Jr. on warehouses storing smuggled rice and a drug haul worth almost P7 billion are unprecedented. This is not true.
Anti-rice smuggling raids have been going on since the Arroyo administration, while the biggest drug bust in the country took place just before Marcos was elected.
The false video appeared on Oct. 18, two days after Marcos vowed to punish everyone involved in agricultural smuggling and hoarding.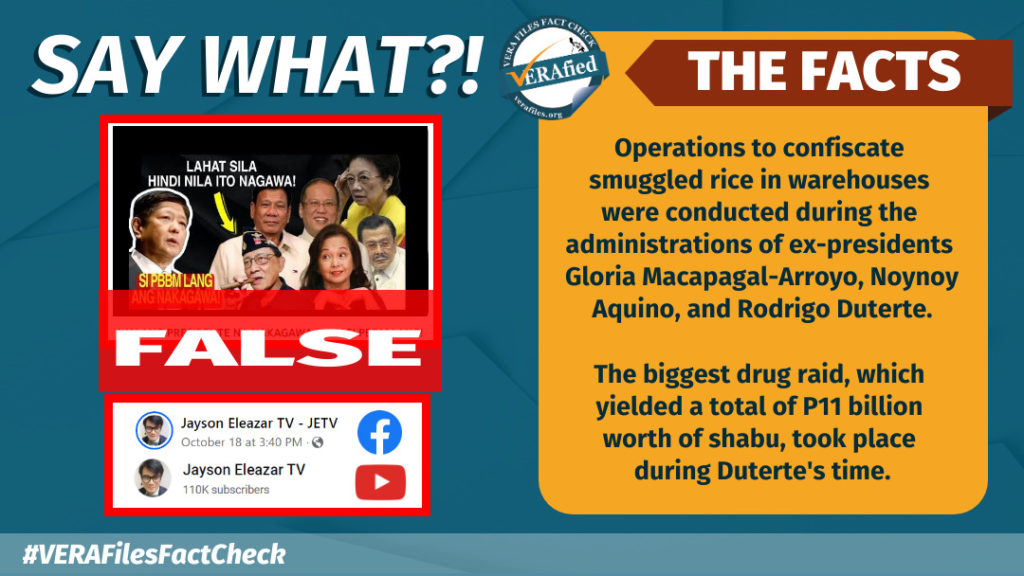 On raiding warehouses with smuggled rice 
Contrary to the video's claim, operations to confiscate smuggled rice in warehouses were also done during the time of former presidents Gloria Macapagal-Arroyo, Benigno "Noynoy" Aquino III, and Rodrigo Duterte
Law enforcement agencies and the Presidential Security Group, led by Macapagal-Arroyo, confiscated smuggled rice worth P1.8 million in Antipolo on September 12, 2002, according to a report by the Philippine Star.
Government officials seized P15 million worth of smuggled rice in Valenzuela on March 25, 2015, which was during the Aquino administration. 
In 2018, during the term of Duterte, customs personnel confiscated smuggled rice from warehouses in Bulacan and Calamba, Laguna. The same year, the government discovered an estimated 20,000 sacks of rice stored in warehouses in Palao, Lanao del Norte. 
On conducting the 'biggest drug raid ever' 
The video also claimed that the biggest drug operation in Philippine history had taken place under Marcos' watch, referring to the P6.7 billion worth of methamphetamine (shabu) seized by the Philippine National Police (PNP) on Oct. 8 2022, three months into the Marcos administration. This is inaccurate.
On March 15, 2022, while Duterte was still chief executive, the PNP and the Philippine Drug Enforcement Agency seized P11 billion worth of illegal drugs during an operation in Infanta, Quezon. 
Posted on Oct. 18 by FB page Jayson Eleazar TV – JETV (created on Oct. 16, 2021) and YouTube channel Jayson Eleazar TV (created on Oct. 1, 2021), the erroneous video garnered a total of 1.1 million interactions. 
Have you seen any dubious claims, photos, memes, or online posts that you want us to verify? Fill out this reader request form or send it to VERA, the truth bot on Viber.

(Editor's Note: VERA Files has partnered with Facebook to fight the spread of disinformation. Find out more about this partnership and our methodology.)