A Facebook (FB) page used a video of medical practitioner Liza Ramoso-Ong to advertise an ear medication that could allegedly treat ear problems like ruptured eardrums, ear infections, and ear ringing or tinnitus in a few weeks. 
This is a fake ad. South Moon Ear Drops, as advertised, is not a registered drug under the Food and Drug Administration. 
Ramoso-Ong and her husband, cardiologist Willie Ong, only promote a milk supplement as a charity advocacy for the elderly.
Ear drops can help treat pain, inflammation, infection and earwax blockage, according to the Cleveland Clinic. However, ear drops should not be used for ruptured eardrums as this could cause complications.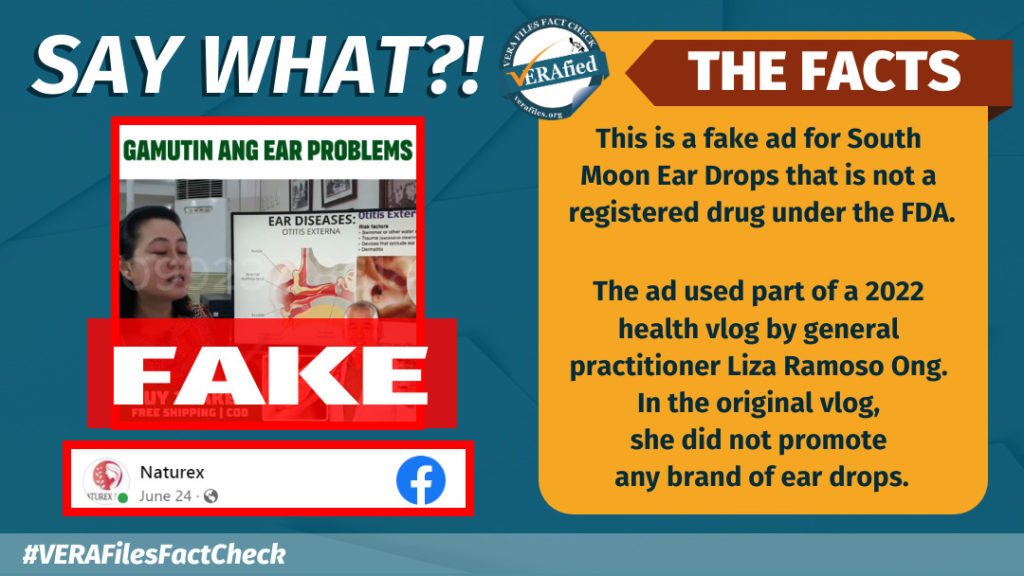 The 40-second fake ad showed a five-second snippet of a 10-minute video uploaded by YouTube channel Doc Willie & Liza 2nd Channel on Aug. 28, 2022. 
In the original video, Ramoso-Ong was not endorsing ear drops. She was just describing symptoms of ear infection such as itching and fluid discharge.
FB page Naturex (created on July 5, 2022 under the name 1991), which posted the fake ad, urged people in the comments section to send them a message about the product. This is a common tactic used in fake health ads.
(Read: VERA FILES FACT CHECK: Doc Willie Ong video endorsing varicose vein spray FAKE) 
The fake ad, which was first posted on June 24, got a total of over 3.7 million interactions. As of Oct. 18, netizens were still asking in the comments section how they can avail themselves of the product. 
Agence France-Presse previously debunked a similar claim.
Have you seen any dubious claims, photos, memes, or online posts that you want us to verify? Fill out this reader request form or send it to VERA, the truth bot on Viber.

(Editor's Note: VERA Files has partnered with Facebook to fight the spread of disinformation. Find out more about this partnership and our methodology.)