Journalist and journalism professor Luis Teodoro, a leading light in Philippine media, passed away March 14. He was 81.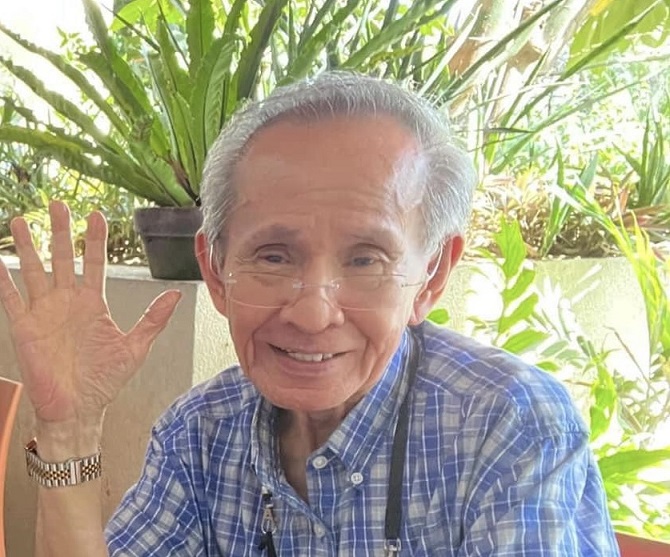 By Babeth Lolarga
Here he is, wearing his well-ironed, clean-cut look
Never one to be caught in blue jeans,
Rumpled shirt or sneakers,
Not even when in the midst of romance
When i think of him, i think of a pen
With which he skewered the fascists
The pigs, the insufferable boors in the halls of
Power, prospect of prison notwithstanding
Today he departed without so much
As a quick goodbye to those many who
Saluted him in his life and are now bereft
Of a rare paragon of media virtud
Oh Louie, i wanted you so to reach
Your nineties, become our
Grand and Grumpy Old Man of Letters
But your heart couldn't bear this nation's
Repeated betrayals!
Go, do not let your spirit tarry here,
Go to what we know to be a place for
Divine peace and justice and all
That was unreachable in temporal life.
**********
Journalist Roby Alampay remembers Luis Teodoro
We all called him "Dean" not because that's the title he had at the UP College of Mass Communication, but because he was a pillar in the Philippine journalism community and our never-ending struggles not only to be free, but to be better.
 Whether railing against governments or slapping his forehead over one of our own, Dean Luis scarred his own face with crows' feet and furrows. But the more time I spent with him the more, to my eyes, those frown lines became more about with his cackle.
When I was much younger, when I was in fact his student, I thought he had a permanent grimace. I have to struggle to remember him that way now. Because THIS is how he is now etched in my heart.
He was my teacher then one of my bosses, a wise member of our board, when I joined SEAPA. By the end of that stint I felt privileged (and also at moments awkwardly presumptuous) to be confident enough to call him a friend. Never, however, to the point that I could plainly call him "Luis".
Salamat at paalam, Dean Luis Teodoro. Maraming, maraming salamat po.
*********************************************
Farewell LVT
By Red Batario and G Sevilla Alvarez
The staff and officers of the Center for Community Journalism and Development (CCJD) deeply mourn the passing of Dean Luis V. Teodoro, mentor, partner, friend, colleague, and kindred spirit.
We will sadly miss his biting commentaries that cut to the quick but tempered by his sense of justice and humanity, his unwavering faith in a kind of journalism that can transform people's lives, and his wellspring of inexhaustible wisdom that guided many of us when darkness seemed impenetrable.
To Dean Luis, farewell and thank you for gifting us with the knowledge and understanding of what journalism is and should be.