All images courtesy of the National Museum Western Visayas
Iglesia: The Heritage Churches of Iloilo is a mixed media exhibit on Iloilo's old churches at the National Museum of the Philippines Western Visayas by Cristhom Setubal of San Joaquin, Iloilo. It includes the churches of San Joaquin, Miagao, Guimbal, Tigbauan,Molo, Jaro, Pavia, Santa Barbara, Cabatuan, Dingle, and Dumangas as well as the Jaro Belfry and the old Oton Church that no longer exists.
An advocate of sustainable art, Setubal uses recycled and found objects (aluminum sheets, espresso pods, chicken wire, copper wire, computer parts, and beads) in depicting the old Spanish churches  as well as old wood and driftwood as the base of the artworks.
Using waste materials, Setubal captures the unique characteristics of each church with its iconic features, its bricks, limestones, corals, and intricate facades as well as the domes, cupolas, and arched windows that make each church so distinct, reflecting the power of Filipino artistry to rise above duress and hardship.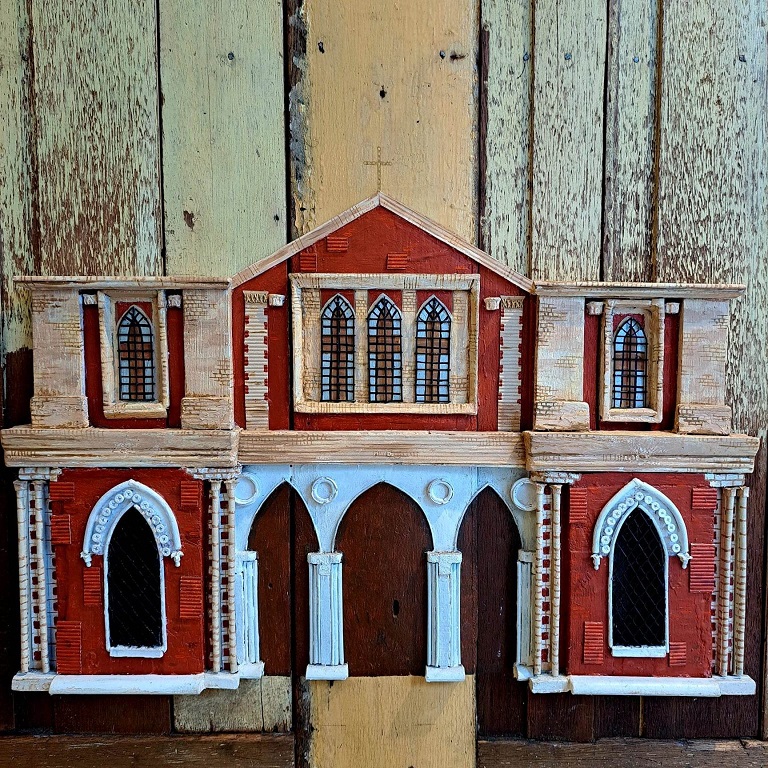 Dumangas Church (Saint Augustine Catholic Parish): Reconstructed in 1887, it is made of red bricks and coral stones and considered as the first and the oldest Roman Catholic Church in Western Visayas. Declared as a National Historical Landmark in 1983, it has also been described as the most artistic church in Panay by the National Historical Commission.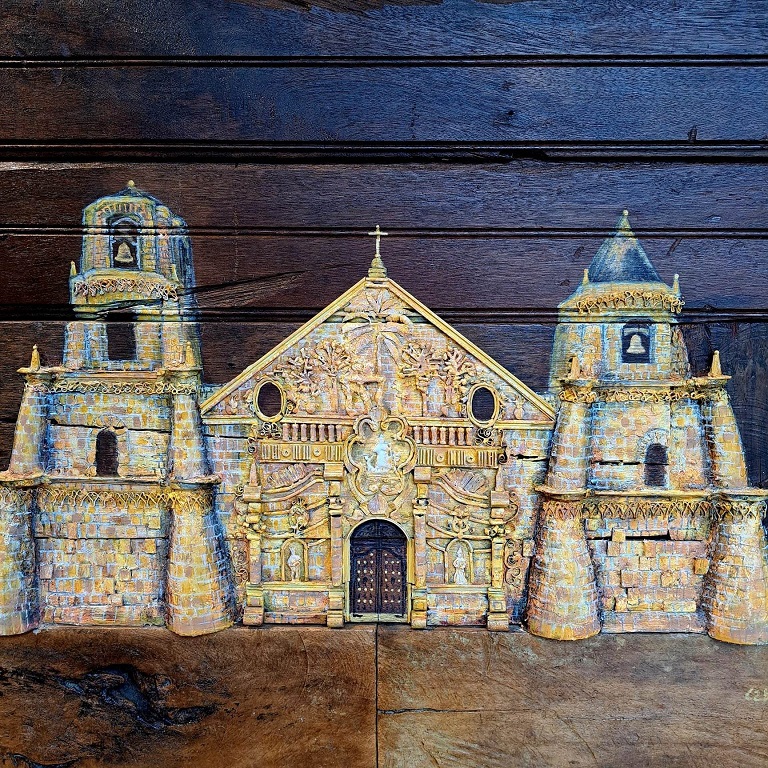 Miagao Church (Santo Tomás de Villanueva Parish Church): It is a UNESCO World Heritage Site, a National Historical Landmark, and a National Shrine, and constructed in 1787 through forced labor. It is built on the highest point of the land, as Miagao then was frequently raided by Moros.
Its ornately decorated façade of bas relief is a mixture of influences: medieval Spanish, Chinese, Muslim, and local elements. On both sides are two huge belfries. Visually arresting is a coconut tree as the tree of life with which St. Christopher holds on to. He is dressed in local attire, carrying the Child Jesus on his back. The rest of the façade depicts the daily life of the locals of Miagao, and native plants such as papaya, coconut, and palm tree.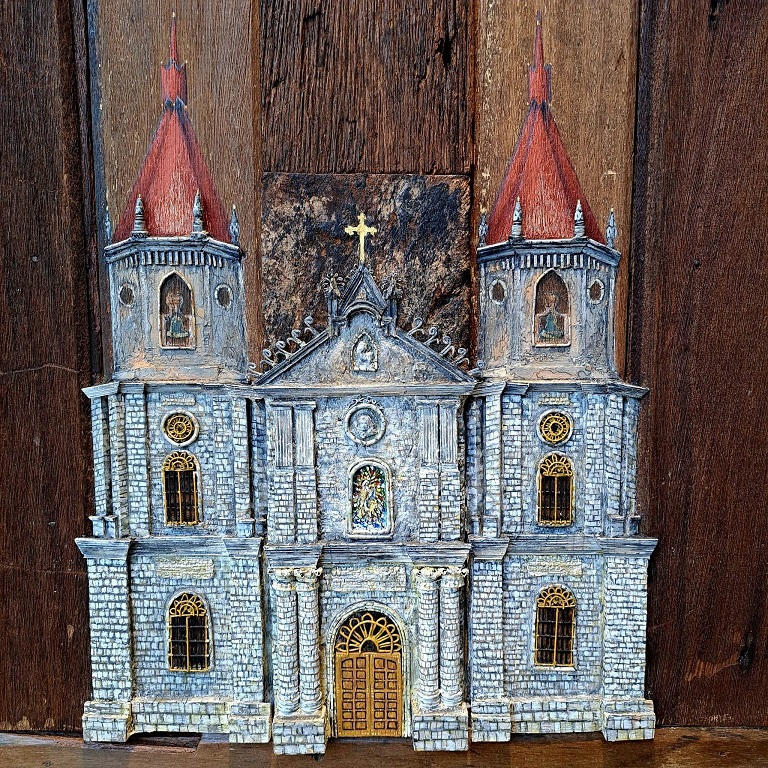 Molo Church (Saint Anne Parish Church):  Originally constructed in 1831, it was reconstructed in stone and completed in 1888. In honor of Saint Anne, it has two rows of 16 female saints on both sides of the altar.
With a façade made of rough stones, it has two red spires and numerous smaller spires and pointed arches. Declared a National Historical L`andmark in 1992, it is the only Gothic church in the country outside of Manila.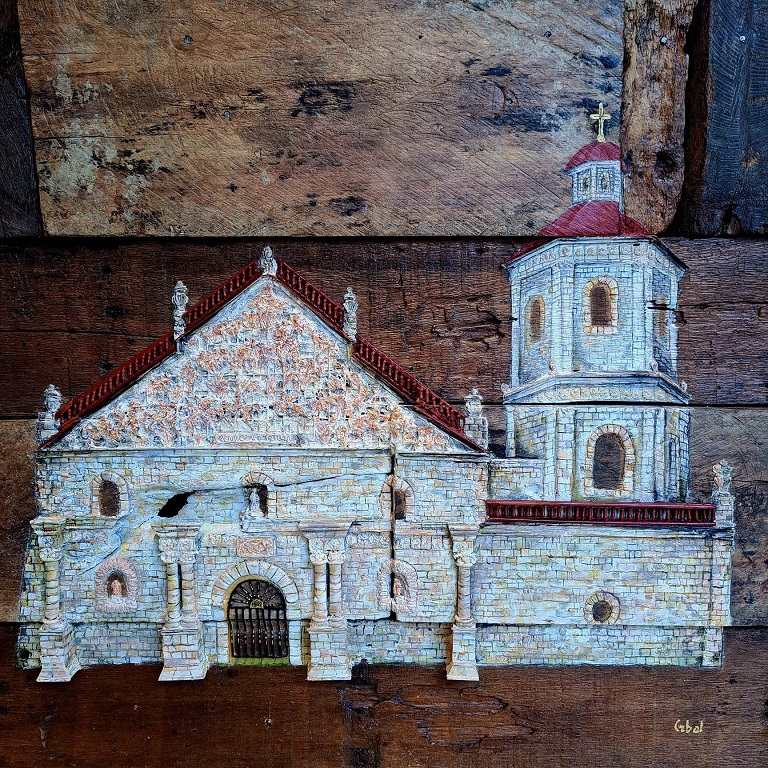 San Joaquin Church (Joaquin Parish Church, Antique): Well-known for its pediment that features a military scene, the folk portrayal of a Spanish victory over the Moors in the Battle of Tétouan, Morocco. Its construction was completed in 1869 by the Augustinians.
Declared as a National Cultural Treasure, the church complex includes the ruins of a convent with its well and kiln used for baking and a cemetery, the San Joaquin Camposanto.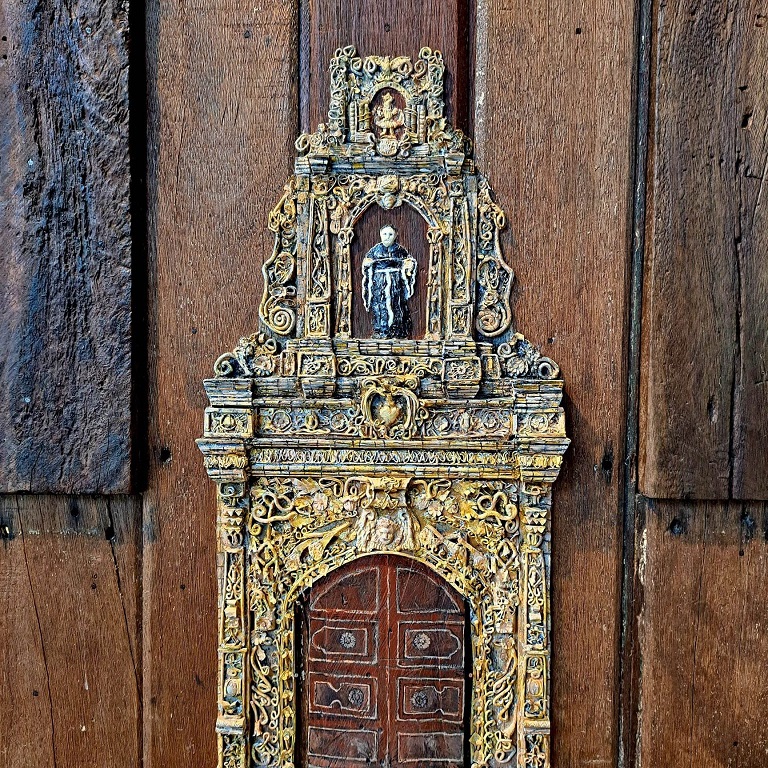 Tigbauan Church (Saint John of Sahagun Parish Church): Constructed in 1867 using reddish coral limestone, it is built in the Churrigeresque style, a Spanish architectural trend in the 18th century, and characterized with a plain front wall and beautiful stone carvings in the middle. The main façade has two arch windows on each side of the image of the Sto. Niño in high relief. An Augustinian seal is also included.
Fire and earthquake remain the most serious causes of the destruction of old churches in the country, leading to their frequent rebuilding and reconstruction. Initially, Spanish churches were made of light materials such as nipa, cogon, and wood. Eventually, they were reconstructed in bricks and stones.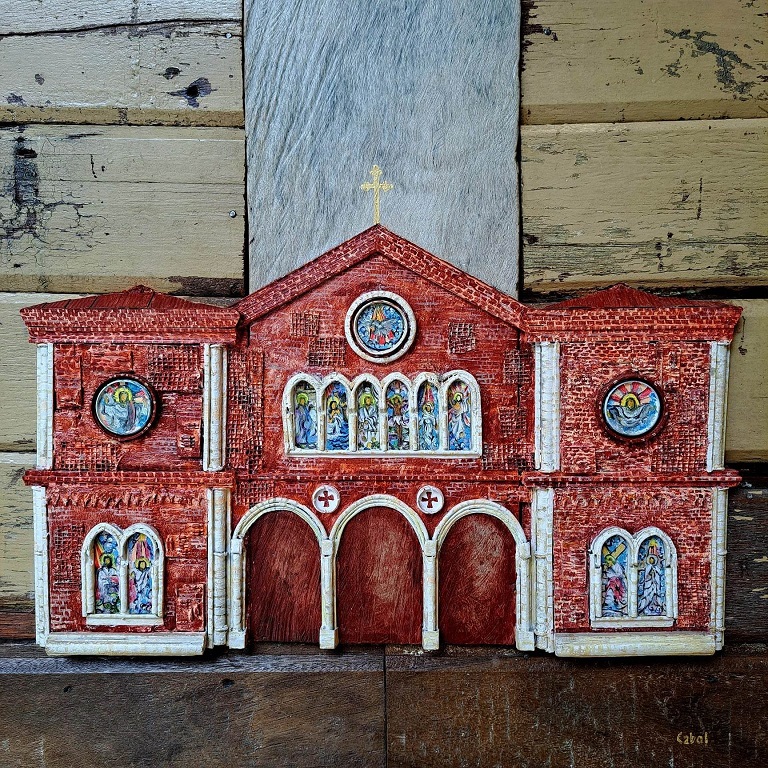 Forced labor
Under Spanish colonial rule, polo y servicio or forced labor had been enforced on indios, adult males from 16 to 60 sixty years of age, for 40 days and reduced to 15 days in 1884. It was used to construct bridges, galleon ships, churches, schools, hospitals, roads, and other community projects.
The polistas or workers under the polo system could be assigned to any project anywhere that resulted in their displacement and separation from families and  their farms left untended leading to hunger. It also resulted in many injuries and deaths among Filipinos that led to rebellions against forced labor.
Not all reconstruction and rebuilding of churches relied exclusively on the polo system. An archivist and a historian who has written extensively on Spanish churches in the country, Regalado Trota Jose Jr.  noted that church records show how much was paid for laborers and craftsmen in church reconstruction and that local communities were quite willing to help build a church and a convento, especially in new parishes, and donated land and materials to that end.
The artist
Setubal, a retired seaman and a teacher, started sketching Iloilo's heritage structures in 2016 that led to his first exhibit in pen-and-ink in 2019 at the Museum of Philippine Economic History, Iloilo.