The summer edition of the Metro Manila Film Festival (MMFF) ends April 18 with varied and more substantial offering than its Christmas edition.
It attracted first rate and well-realized entries (About Us but Not About Us directed by Jun Lana, Apag by Brilliante Mendoza).  At the same time, it had entries that entertain (Here Comes The Groom, Pagputi Na Ang Buhok Ko).
The rest of the entries didn't disappoint (Yung Libro sa Napanuod Ko, Singlebells directed by Fifth Solomon, A Swiss Side Love Story megged by RC de los Reyes and Love You Long Time directed by JP Habac).
For another, the top entries didn't cling to the usual filmmaking formulas. They avoided predictable subjects which were the stuff of previous MMFF entries.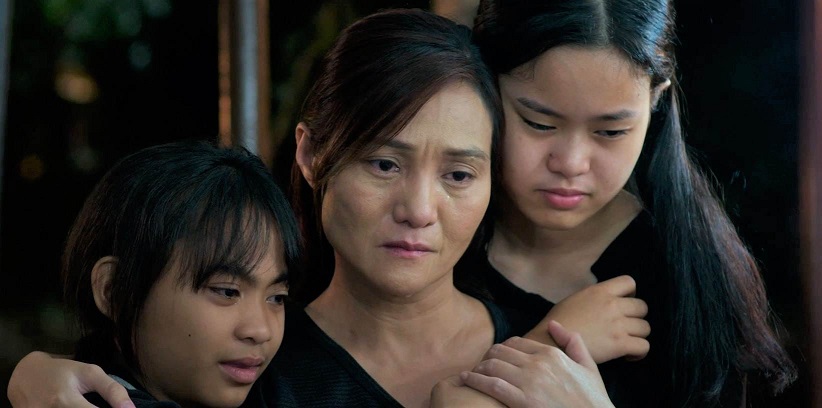 Mendoza's Apag is easily the festival's grand opera with a curious glimpse of Pampanga's culinary feast.
It revealed the strength and breadth of Pampanga families, they who love and protect family members at whatever cost. You see close ties with extended families from house helpers and beyond. Mendoza's film is a good portrait of the Filipino as a strong family and how they cope with family crisis. After enjoying Pampanga's culinary feast, you see the dark side of a neighbor determined to exact revenge in a very unpredictable way.
All things considered, Apag's formidable actors deliver.  Coco Martin as the good son is a good foil to the concerned father of Lito Lapid. Jacklyn Jose as matriarch is pillar of strength and Mercedes Cabral throws in a dark side that contributes to the film's surprise ending.  All told, Gladys Reyes deserved that Best Actress trophy. How her character came to terms with her husband's death was revealing of her inner strength as an actor.
It is nice to see filmmaker Mendoza handle a family picture with unpredictable twist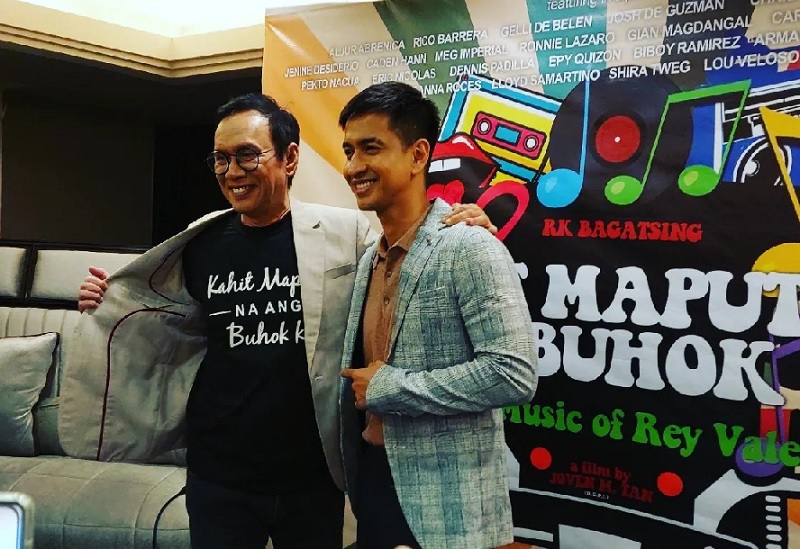 Those who came to watch Rey Valera's story as composer and performer were grandly rewarded in the film, Pagputi Na Ang Buhok Ko directed by Joven Tan. The first part is a modest look into the tunesmith's humble beginnings and the latter part gave viewers the back stories behind his big hits. The film is Valera's story and music in viewable videos with guest appearances of stars of consequence like Ronnie Lazaro, Rosanna Roces, among others.
The film ended with not a few Rey Valera fans teary-eyed over Valera hit songs (Malayo Pa Ang Umaga, Mr. DJ, Pangako sa Yo, Kung Tayo'y Magkakalayo, Maging Sino Ka Man, Kung Kailangan Mo Ako, Tayong Dalawa, Ako si Superman). Tan directed with imagination considering the limited material he has and of course the limited budget.
The entry that elicited a tsunami of laughter is Chris  Martinez's Here Comes The Groom.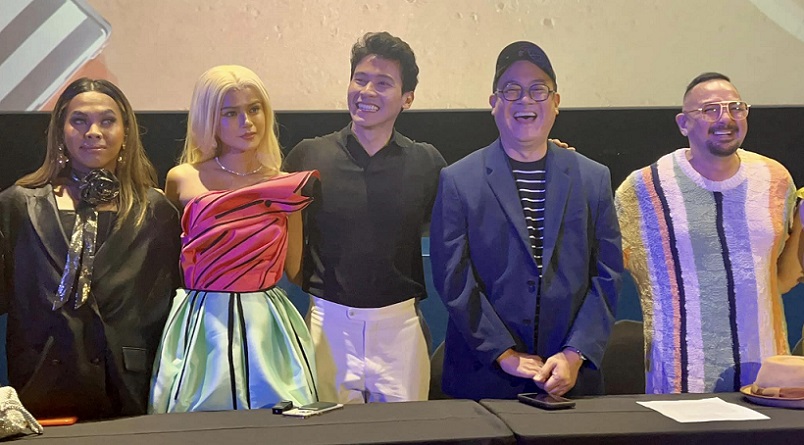 What a relief to see an avalanche of laughter inside  a theater after three years of the pandemic.
In the film opening, you see members of the Rodrigo family in identical religious garb inside a church. Hearing a convent-bound sibling quoting from the holy book without blinking was just the beginning of a riot of a film.
Director Chris Martinez has done it again. The film is a hilarious retelling of mistaken identity happening after an accident during a solar eclipse. The film is all at once a spoof of society's notion of manhood and its inherent bias on the gay community. It doesn't spare even small-town politicians (personified by Eugene Domingo).
Good script with superb direction and a tight acting ensemble allows audiences to have fun but not without coming to terms with the biases of a polite society.
This comedy is the sequel to the hit film Here Comes the Bride. It follows the story of Rodrigo, Sr., his wife Salve, their children Rodrigo, Jr. and Blesilda who are on their way to Junior's wedding in the midst of a solar eclipse and cruising on a magnetic field when their vehicle hits the van of a family of a gay pageant contestant. Soul swapping happens. They need to stay in their swapped bodies for the next seven years.
Produced by Quantum Films, Cineko Productions and Brightlight Productions, this entry to the 2023 Summer MMFF stars Enchong Dee and Keempee De Leon who bagged the Best Supporting Actor trophy while transwoman KaladKaren bagged   the Best Supporting Actress trophy in the same film.
The most talked about and most widely reviewed entry was Lana's About Us but Not About Us.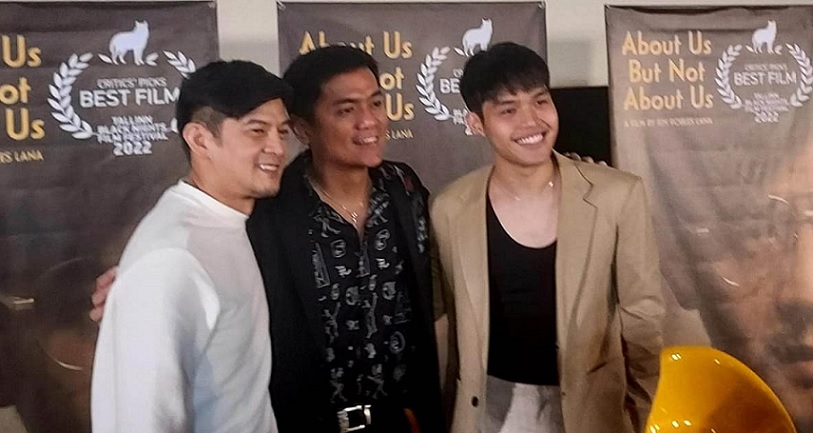 It features only two characters in a restaurant in deep conversation with just the waiter coming in to take orders and present the bill.
After an hour and a half, the latest Jun Lana film reveals the best of Romnick Sarmenta (as Eric) and Elijah Canlas (as Lancelot).
It is easy to be skeptical when viewers figure out how the director and scriptwriter can pull off this film without location changes.
By a stroke of excellent writing and direction, Lana produced a masterpiece exploring the characters' past and present without visual flashbacks thrown in.
The actors did it, the simple but compelling film scoring and cinematography did it.
There is no doubt About Us But Not About Us is the best entry in the 2023 Summer Metro Manila Film Festival.
As expected, it raked in ten trophies including best picture, best actors and best director.
The jury headed by the celebrated actor Dolly de Leon (Triangle of Sadness)  did a good job.
The winners: Best Picture  — About Us But Not About Us; Second Best Picture: Love You Long Time; Third Best Picture: Here Comes the Groom; Best Director — Jun Robles Lana, About Us But Not About Us; Best Actor in a Leading Role: Romnick Sarmenta; Best Actress in a Leading Role–  Gladys Reyes, Apag; Best Actor in a Supporting Role: Keempee de Leon, Here Comes the Groom; Best Actress in a Supporting Role: Kaladkaren, Here Comes The Groom; Best Screenplay —  Jun Robles Lana, About Us But Not About Us; Best Cinematography —  Neil Daza, About Us But Not About Us; Best Editing: Lawrence Ang, About Us But Not About Us; Best Sound —  Armand de Guzman, About Us But Not About Us; Best Musical Score — Teresa Barrozo, About Us But Not About Us; Best Original Theme Song: "Paralaya" by Andy Alviz, Apag; Best Production Design– Marxie Maolen Fadul, About Us But Not About Us; Special Jury Prize — Here Comes the Groom and Elijah Canlas.
Best director and best screenplay awardee Jun Lana reflected on how the film came about: "In the past, I always try to think of my audience every time I make a film. Not with this one. My only goal was simply to save myself. I was going through a lot and was severely depressed to the brink of suicide. Ashamed to ask for help from anyone, I turned to the one thing that has always given me comfort: writing. For three straight days, I wrote without a break, remembering and acknowledging many traumas that stifled me much of my life, including being molested repeatedly as a child. Part fiction, and part confessional, the film allowed me to expunge my demons, come to terms with my dark past, and take full control of my narrative."