Multiple posts from a Facebook page claiming to be a fan page of international restaurant chain Kentucky Fried Chicken (KFC) have promised to give away "financial favors." Filipinos are sharing and commenting on these bogus posts that direct them to a survey.
"117 people will receive financial favor before 11am tomorrow morning," the posts by FB page 𝐊𝐅𝐂 𝐅𝐚𝐧𝐬 read.
Cursory search shows that the alleged giveaway does not show up on the official website and Facebook page of KFC Philippines nor in the company's global website.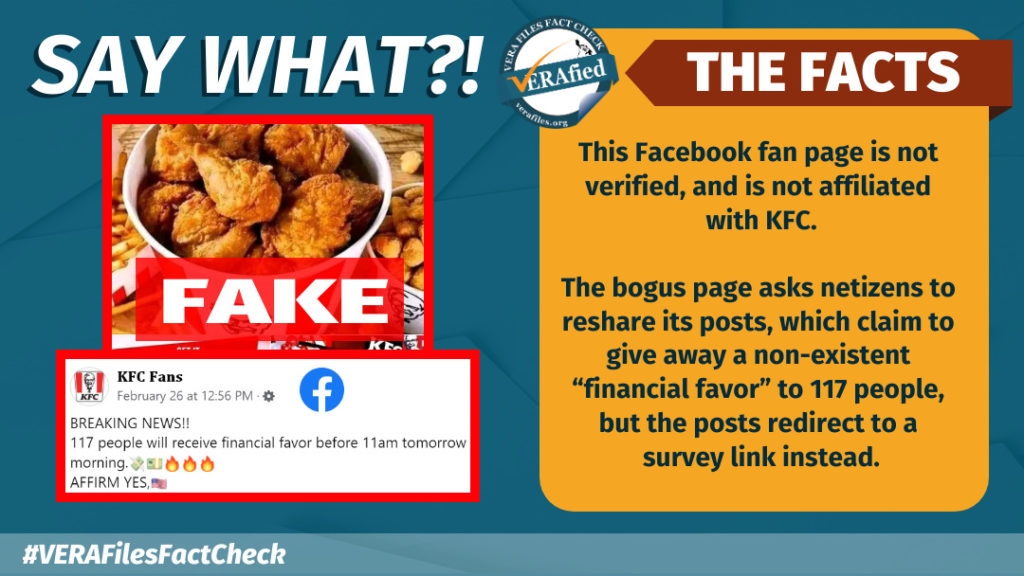 𝐊𝐅𝐂 𝐅𝐚𝐧𝐬, which was created on June 17, 2020 under the name Radhika Vyas, is not KFC's official account nor does it have the blue verified badge on Facebook. KFC Philippines' official Facebook page is verified, and was created on April 8, 2010.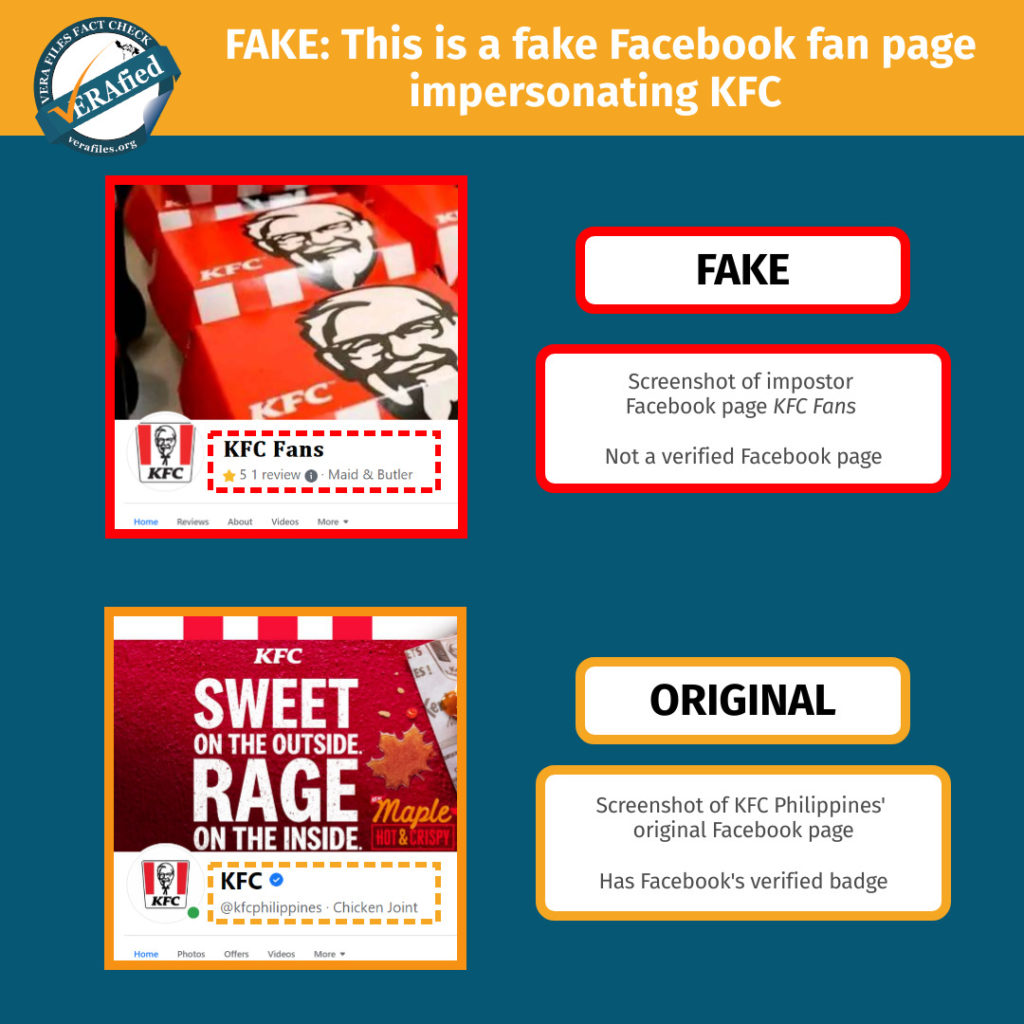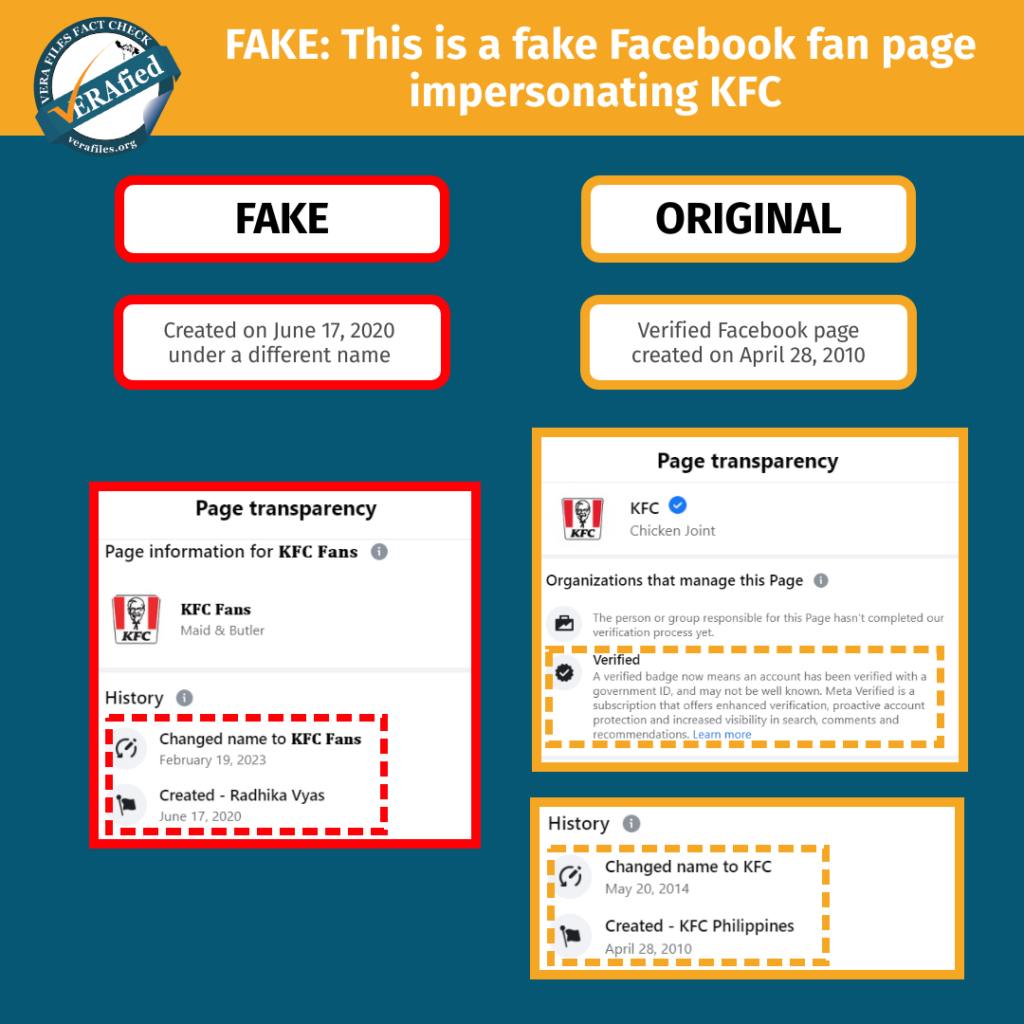 A Facebook Page or profile with a verified badge next to it now indicates that Facebook has confirmed that it is the authentic presence for that person or brand, Facebook's Help Center states.
(WATCH: Mga red flags ng mga mapanlinlang na social media account o page)
The bogus page replied to every comment, telling netizens to share the post to five other Facebook groups in order to receive the non-existent reward.
The FB page used the restaurant chain's logo as its profile picture. Some of the posts used photos of food packages.
One of the posts asked people to register to a Google site in order to get free buckets of chicken. The link redirects to a survey (thoampibsurvey.space) filled with ads.
The posts got a total of 1,786 interactions. These appeared on Feb. 26 and 28, and March 1 and 3.
Have you seen any dubious claims, photos, memes, or online posts that you want us to verify? Fill out this reader request form or send it to 'VERA, the truth bot' on Viber.
(Editor's Note: VERA Files has partnered with Facebook to fight the spread of disinformation. Find out more about this partnership and our methodology.)