Two Filipino Facebook (FB) users shared TikTok videos allegedly showing Celine Dion on her deathbed. The woman in the video is not the Canadian singer. 
"Rest in Peace Celine Dion," the text in the videos read. The Filipino netizens' FB Reels appeared days after various videos on TikTok falsely reported the singer's death. 
The hoax video showed a woman in a hospital bed, being wheeled into a corridor while some people watch her by the side and others walk behind her. 
Reverse image search shows that a user named Taylor Marie Barlow first uploaded the video to TikTok on Feb. 27. In the comments section, she said the woman in the hospital bed is her cousin who got an honor walk as she was being wheeled to the operating room.
An honor walk is a ritual in American hospitals where people honor patients who donate organs at the end of their life, a 2019 New York Times article explains. Living organ donors can also receive honor walks. 
Dion, who celebrated her 55th birthday on March 31, has not passed away. News organizations, as well as her official social media pages, have made no reference to this. AFP Nigeria also debunked the claim.
On Dec. 8, Dion announced that she was diagnosed with stiff person syndrome, a rare, incurable disorder which causes progressive stiffness of one's muscles.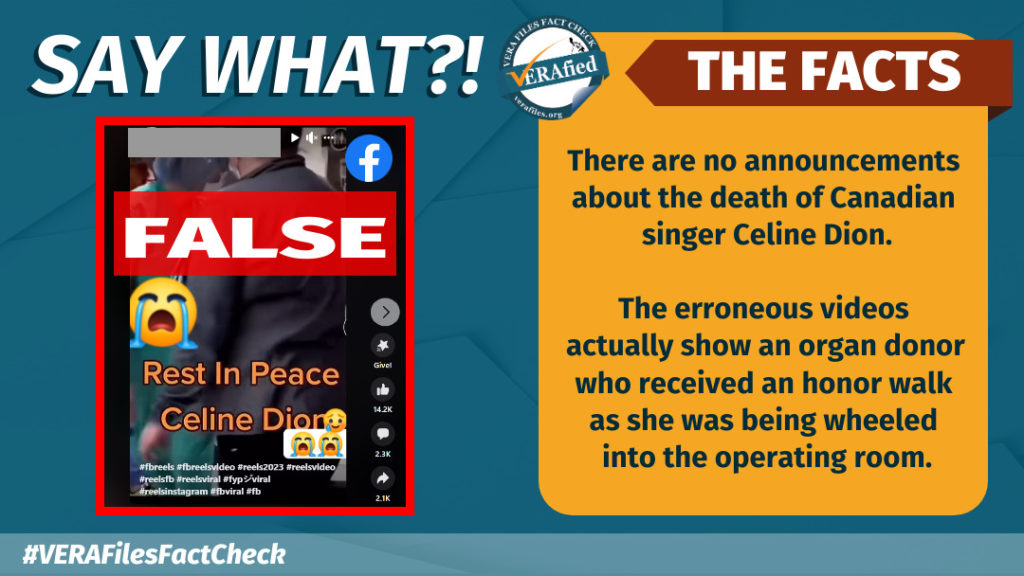 The netizens' FB Reels videos got a total of 1.32 million interactions. These Reels originally came from two TikTok videos, which garnered 1.3 million interactions.
Have you seen any dubious claims, photos, memes, or online posts that you want us to verify? Fill out this reader request form or send it to 'VERA, the truth bot' on Viber.
(Editor's Note: VERA Files has partnered with Facebook to fight the spread of disinformation. Find out more about this partnership and our methodology.)