A video falsely passed off an old photo to claim that the Philippine Coast Guard (PCG) fired water cannons at Chinese boats in the West Philippine Sea (WPS).
The eight-minute and eight-second video was uploaded on Facebook (FB) and YouTube on March 14 and continues to circulate this week. Its headline read: 
"Magaling! Pilipinas ginamitan umano ng water cannon ang mga pasaway na Chinese vessel sa WPS (Well done! The Philippines allegedly used a water cannon against stubborn Chinese vessels in WPS)." 
Its thumbnail featured a sea vessel using a water cannon against a smaller boat. The former was altered to bear a Philippine flag and the text "Philippine Coast Guard" on the side.
The spurious video further stated that "more than 10 Chinese fishing vessels around Ayungin Shoal immediately left" after the water attack. 
This is false. There are no reports about such an incident recently taking place. The video also used an altered photo of a Japanese vessel.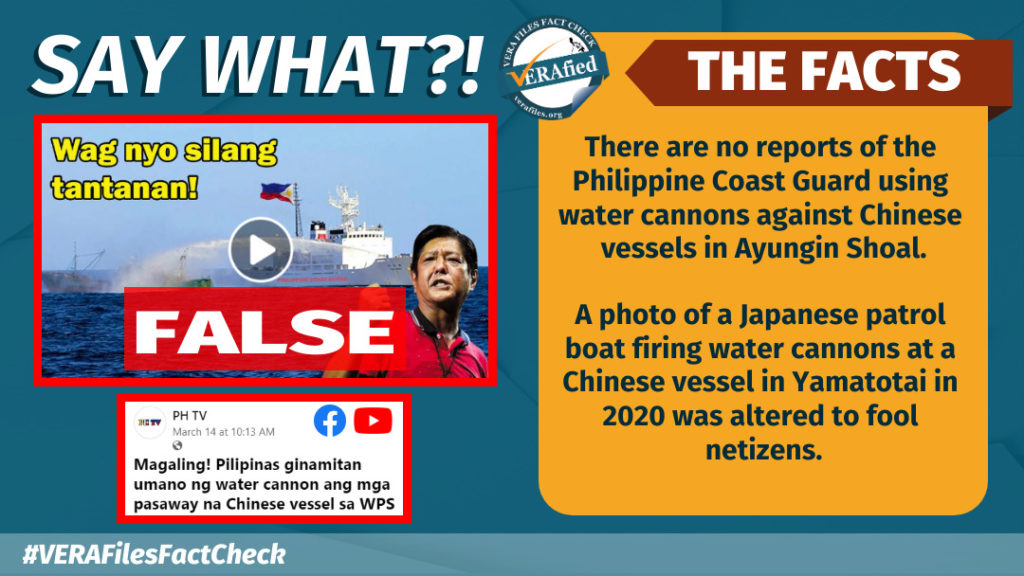 It was Chinese Coast Guard vessels that fired water cannons at two Filipino boats in Ayungin Shoal in November 2021. The PCG did not retaliate in the same way then nor recently.
Meanwhile, the original image of the vessel came from Japan's Fisheries Agency and showed a Japanese patrol boat firing a water cannon at a Chinese fishing vessel in the Yamatotai fishing grounds. The photo was published by Japanese news sites in October 2020. 
An image of the Philippine flag was digitally added to replace the original flag. The "FISHERIES INSPECTION" label was also changed to "Philippine Coast Guard."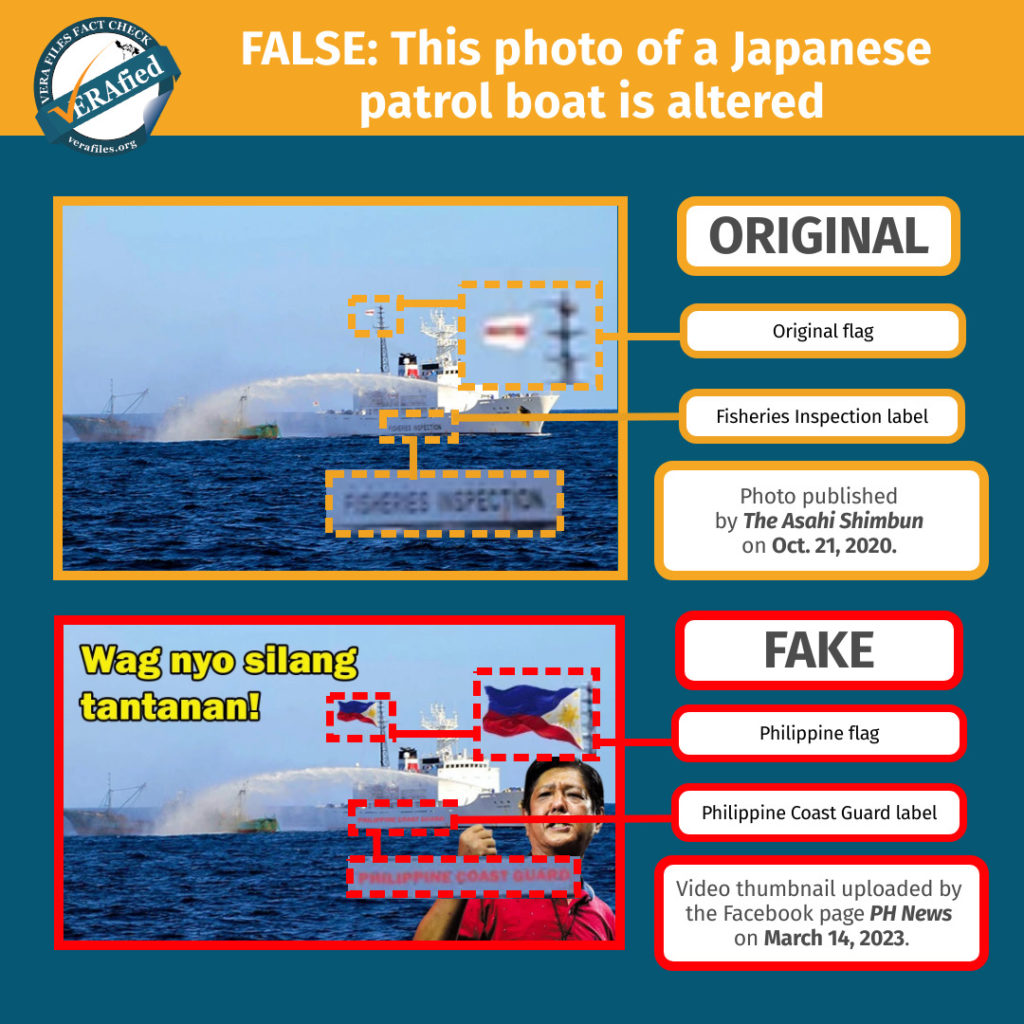 More, the circulating false video also reported that an "enormous" Chinese fishing vessel on its way to the WPS was asked to leave. However, the photo flashed was a Chinese vessel caught in Argentina's exclusive economic zone.
The false video was uploaded five days after the PCG conducted a maritime domain awareness flight over the WPS.
PH News' (created on Nov. 1, 2021) video has 246 reactions, 14 comments, 1,800 views and 4 shares as of writing. The copy uploaded on YouTube by the same channel also garnered 52,090 views. This is the second time that VERA Files Fact Check debunked a false video from this channel. (Read Report on Chinese military aircraft crash NOT new)
Have you seen any dubious claims, photos, memes, or online posts that you want us to verify? Fill out this reader request form or send it to 'VERA, the truth bot' on Viber.
(Editor's Note: VERA Files has partnered with Facebook to fight the spread of disinformation. Find out more about this partnership and our methodology.)