Several advertisements on Facebook (FB) are peddling a mixed cereal product that people are supposedly lining up to buy at a mall, allegedly claiming to provide a myriad of health benefits. This is a scam.
These ads were posted by at least three FB pages from March 1 to 26. A part of the text in their posts read:
"Nakagugulat na balita, ni-raid ng mga pulis sa Maynila ang sikat na SM Mall sa Asia kahapon para alamin kung bakit libu-libong tao ang nagtipon sa mahabang pila. Sa pagdating, natuklasan ko na si Dr.WiIIIie-0ng … ay naglulunsad ng Super Meal Mix Nuts"






(Shocking news, the police raided the popular SM Mall of Asia in Manila yesterday to find out why thousands of people are gathering in the long line. Upon arrival, I discovered that [popular cardiologist Doc Willie Ong] is launching Super Meal Mix Nuts.) 
These ads are a scam designed to gather a netizen's personal information. The product is not registered with the Food and Drug Administration (FDA) and uses an edited photo to mislead potential customers.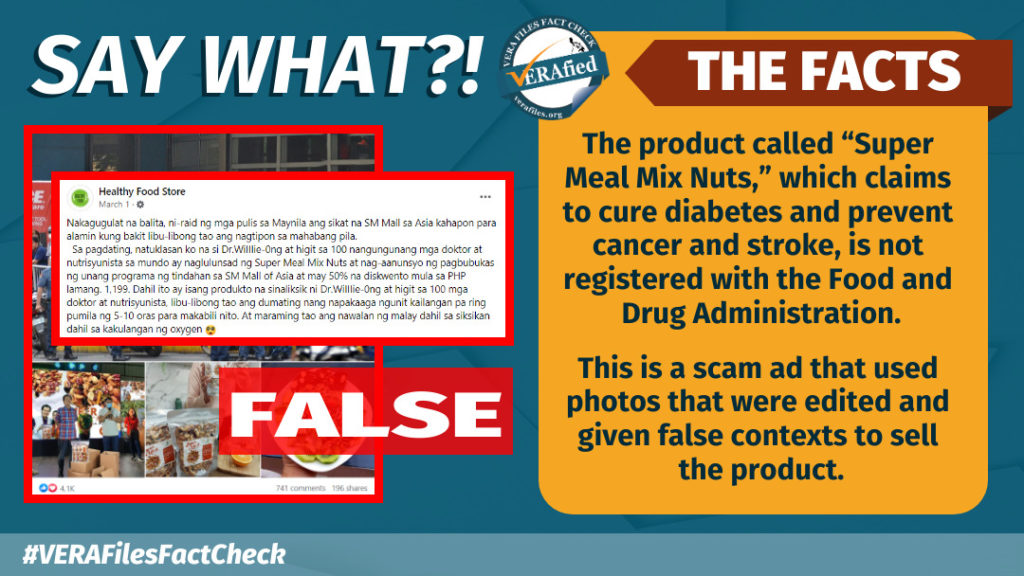 Not FDA-approved
The mixed nuts product can supposedly maintain uric acid and blood sugar levels, as well as cure diabetes and reduce the chances of getting cancer and stroke, according to the social media posts.
"Super Meal Mix Nuts" is not listed on the FDA's list of approved food products with certified product registrations. Following the linked websites provided in the post revealed the name of its supposed manufacturer — "Naturio Nuts & Seeds Mix", which is also not on the agency's record of registered food manufacturers.
Deceptive use of images
To legitimize the "popular craze" the cereal has allegedly created, the FB posts gave false context for a photo of a crowd, and manipulated an image that shows Ong at a public event.
The former was taken from a March 2020 series of pictures published by news media Abante News Online. It shows members of the Manila Police District monitoring a mall in Manila to prevent students from entering during class hours.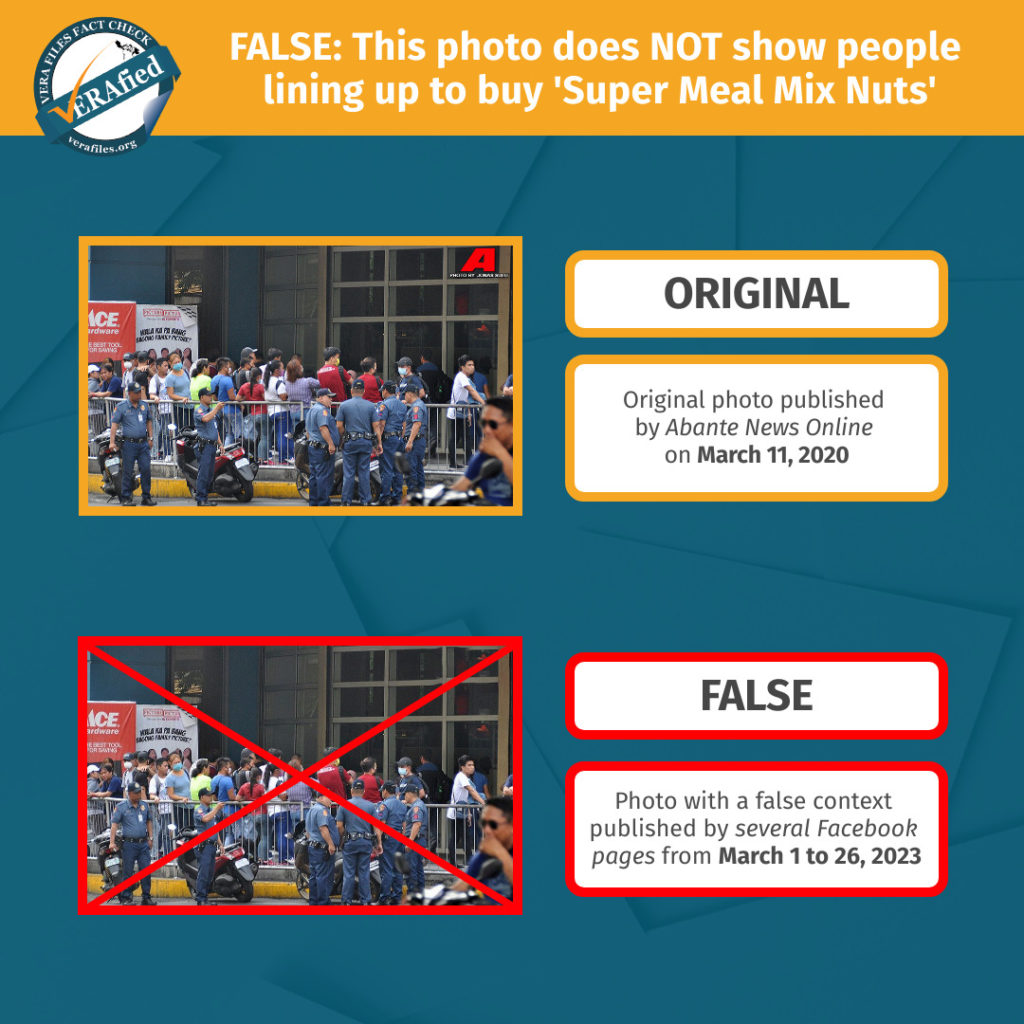 The second photo was edited and taken from Ong's August 2022 post of a milk feeding event he co-hosted in Tondo, Manila. The original photo shows that boxes in front of Ong and the backdrop behind him featured a milk product, not the cereals.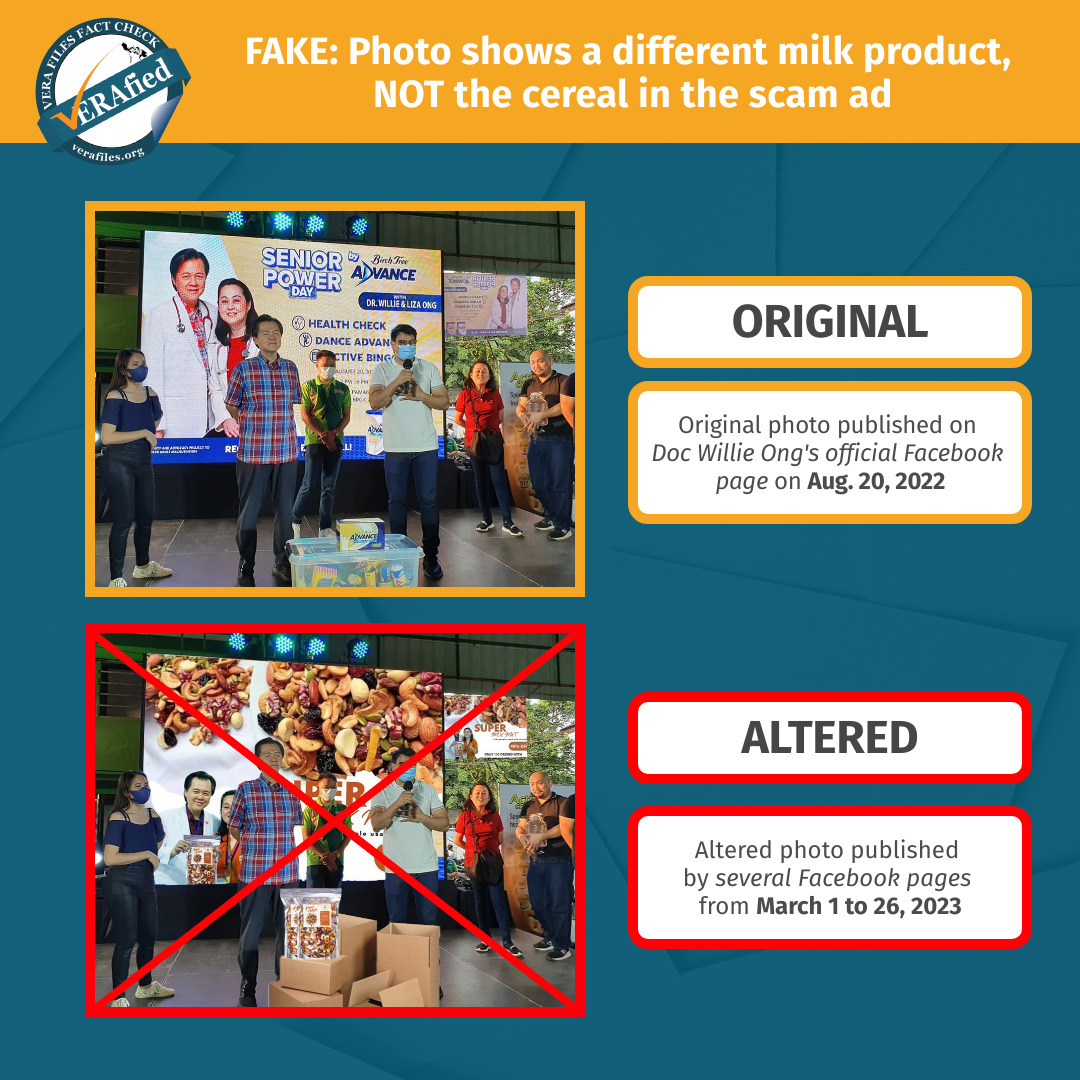 These spurious advertisements emerged after the observance of National Cancer Awareness for the month of February.
FB page Healthy Food Store (created on March 20, 2021) as well as impostor pages Marian Riveraa (March 2, 2023) and Alex Gonzzaga (March 16, 2023) published the ad, collectively garnering over 7,100 reactions, 1,000 comments and 330 shares.
Have you seen any dubious claims, photos, memes, or online posts that you want us to verify? Fill out this reader request form or send it to 'VERA, the truth bot' on Viber.
(Editor's Note: VERA Files has partnered with Facebook to fight the spread of disinformation. Find out more about this partnership and our methodology.)