A YouTube video falsely passed off old clips of armored fighting vehicles to claim that the United States (U.S.) gave "for free" 1,000 military tanks to the Philippines. The U.S. has made no such donation.
The two-minute-17-second video posted on March 15 bore the headline:
"AMERICA BAGONG BIGAY SA PILIPINAS DUMATING NA! CHINA GALIT NA (AMERICA'S NEW GIFT TO THE PHILIPPINES HAS ARRIVED! CHINA IS NOW ANGRY)! VINES BREAKING NEWS VIRAL."
Its thumbnail with a "breaking news" label featured rows of military tanks and an image of a Philippine flag.
The captions in the video further assert that the U.S. sent the tanks to express its "gratitude" for the designation of additional sites under the Enhanced Defense Cooperation Agreement (EDCA).
This is not true. No tanks were given to the Philippines and the clips shown are old.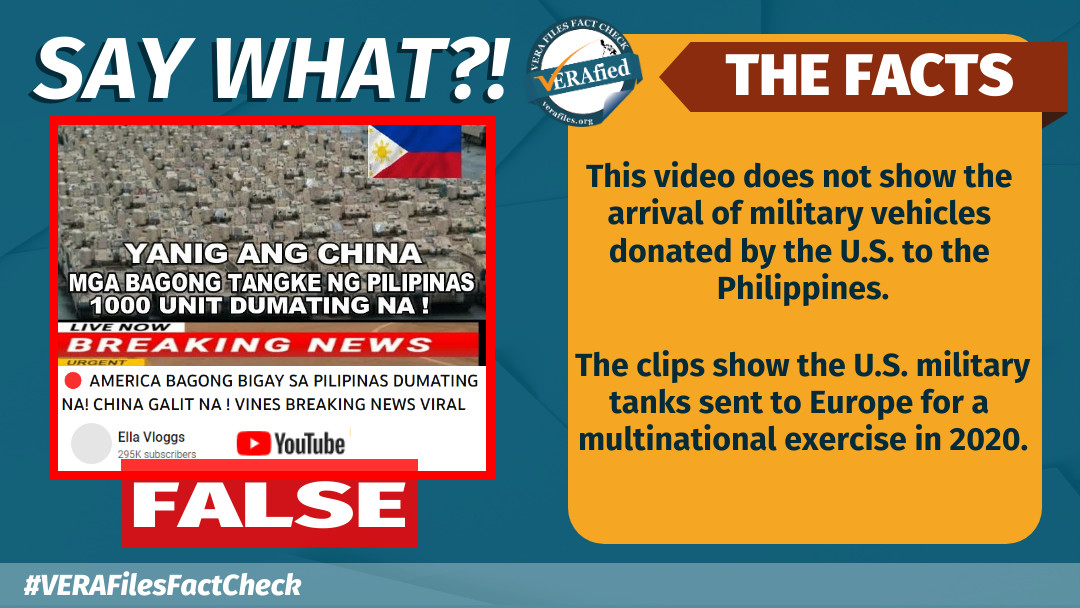 The series of footage is from a 2020 video published by the U.S Transportation Command showing heavy military equipment being loaded for the multinational exercise DEFENDER-Europe 20.
On Feb. 21, 2020, America sent more than 13,000 armored vehicles to Bremerhaven, Germany for the U.S.-led exercise participated in by North Atlantic Treaty Organization allies and other U.S. partner nations.
The false video was uploaded two days after the opening ceremony of the Philippine Army and U.S. Army Pacific's joint military exercises Salaknib 2023 at Fort Magsaysay in Palayan, Nueva Ecija.
Last February, the Philippines and the U.S. agreed to designate four additional EDCA sites for U.S. troop operations in the country.
In a March 12 statement, the Chinese embassy in the Philippines said adding EDCA sites is the U.S.' way "to secure its hegemony and selfish geopolitical interests" and "to encircle and contain China."
The video of YouTube channel Ella Vloggs (created on Feb. 15, 2019) has 21,113 views as of writing and netizens also shared the link on Facebook. VERA Files has previously fact-checked five military-related disinformation from this channel. (Read Russia DID NOT donate a warship 'now in Mindanao')
Have you seen any dubious claims, photos, memes, or online posts that you want us to verify? Fill out this reader request form.
(Editor's Note: VERA Files has partnered with Facebook to fight the spread of disinformation. Find out more about this partnership and our methodology.)