A YouTube video claimed that senior citizens would receive a total of P1,000 cash aid from the Philippine government to help them cope with rising prices caused by inflation. This needs context because not all seniors will receive this monetary assistance.
Posted by Boss Balita TV on March 13, and hours later reuploaded on its Facebook (FB) counterpart Boss balita tv bbtv, the YouTube video carried this headline: 
"KAKAPASOK LANG! ATTENTION SENIORS AND FILIPINO. WOW MAY PONDO NA! ANG 1,000 IBIBIGAY! DALAWANG 500 NA IBIBIGAY! OPISYAL NA PAHAYAG (Just in! Wow, there are now funds! P1,000 [cash aid] to be given away! It will be distributed as two P500! Official statement)!" 
Only indigent and poor senior citizens or the poorest of the poor, and existing members of the Pantawid Pamilya Pilipino Program (4Ps) for a total of 9.3 million households – not individuals – will receive an aid of P500 for two months, Romel Lopez, assistant secretary of the Department of Social Welfare and Development (DSWD), said in a March 10 Laging Handa press briefing. 
As of March 2023, the poverty incidence rate among families is 13.2% according to the Philippines Statistics Authority (PSA). The country's population is a little over 109 million, as per the 2020 census.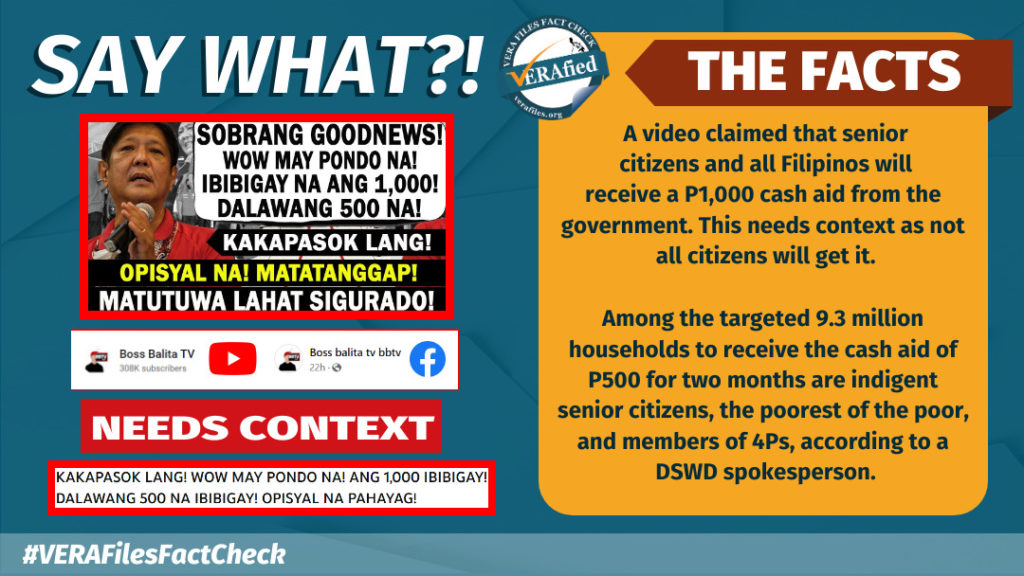 The cash aid in question is part of a targeted cash transfer program designed to help alleviate the effects of inflation, Finance Secretary Benjamin Diokno said in a March 7 press conference. This cash assistance will be made available in the coming weeks, he added.
Boss Balita TV's video appeared a week after Diokno's news conference which was used as the basis for the inaccurate claim.
Indigent senior citizens are those who are sick, frail or with disability, and without pension, permanent source of income, or regular support from relatives to meet basic needs as assessed by the DSWD, Section 3(h) of Republic Act No. 9994 states.
To qualify as a recipient of 4Ps, a household must have a pregnant woman availing prenatal services, children attending school, a member attending one family development session per month, and children 0 to 5 years old attending regular health checkups, among other things. 
The inaccurate video got a total of over 61,230 interactions on FB and 12,730 interactions on YouTube. Some netizens who commented on FB thought that all senior citizens will be covered by the financial assistance. 
Have you seen any dubious claims, photos, memes, or online posts that you want us to verify? Fill out this reader request form or send it to 'VERA, the truth bot' on Viber.
(Editor's Note: VERA Files has partnered with Facebook to fight the spread of disinformation. Find out more about this partnership and our methodology.)