A video on Facebook (FB) is claiming to show footage of the execution of the first Filipino who received capital punishment. Not true. The video is actually from a movie scene.
The false FB post was published by a netizen in August 2022 and gained renewed traffic this week. The clip showed a man in an orange jumpsuit being given the lethal injection.
Text added inside the video stated:
"pinaka unang Pinoy na nahatulan ng death penalty sa Pinas (first Filipino sentenced with death penalty in the Philippines)."
Part of the caption read:
"Ito ang hinding-hindi ko makakalimutan sa live ng paghatol ng kamatayan sa taong ito!… 1999 yung paghatol ng kamatayan kay leo Echegaray! Deserved nyang mamatay dahil ginahasa nya ang sariling anak! Sya ang pinaka unang taong gumahasa sa Pilipinas!"






(This is what I will never forget in the live sentencing of the death penalty to this person! Leo Echegaray was sentenced to death in 1999. He deserved to die because he raped his own child! He is the first person who raped in the Philippines.)
The netizen then praised the late President Ferdinand Marcos Sr. and the 1972 declaration of martial law, then criticized "disgusting" things that happened under the administration of the late President Benigno Aquino III.
The video does not show footage of the execution of Leo Echegaray, who was found guilty of repeatedly raping his 10-year-old stepdaughter.
It was taken from a scene in the 2000 crime film Deathrow. It features the late actor Eddie Garcia portraying a character on death row.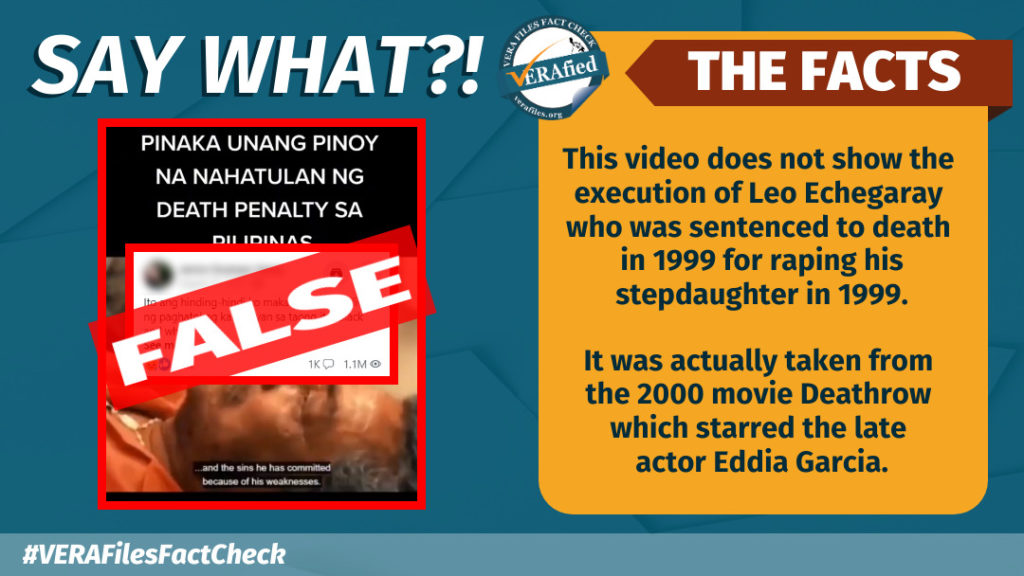 While there is no publicly available footage of Echegaray's actual execution, news clips show the convicted child rapist before he was led to an execution chamber in 1999.
Echegaray was not the first person in the country to commit rape and neither was he the first person sentenced to death. But he was the first person put to death following the reinstatement of capital punishment in 1993.
Death as a form of punishment was legal under the Marcos regime and was prohibited in 1987 under the new Constitution, save for heinous crimes if enacted by Congress through a law. 
After its reinstatement in 1993, capital punishment was abolished again in 2006 under the term of former president Gloria Macapagal-Arroyo.
This video first appeared days after Sen. Ronald "Bato" Dela Rosa pushed for the revival of the death penalty for large-scale drug-traffickers.
The FB netizen's false video has garnered over 21,000 reactions, 1,000 comments, 2,400 shares and 1.1 million views.
Have you seen any dubious claims, photos, memes, or online posts that you want us to verify? Fill out this reader request form or send it to 'VERA, the truth bot' on Viber.
(Editor's Note: VERA Files has partnered with Facebook to fight the spread of disinformation. Find out more about this partnership and our methodology.)