A video on YouTube erroneously claimed that Sen. Alan Peter Cayetano has been expelled from the Senate on the orders of President Ferdinand Marcos and former President Rodrigo Duterte. 
On April 9, a YouTube channel published the video with this clickbait headline:
"KAKAPASOK LANG UMAMIN NA! CAYETANO NAMUTLA sa TAKOT hindi NAKALIGTAS kay PRES BBM SENADO SININGIL NA (Just in, they confessed! Cayetano paled in fear, not unscathed from President Marcos. Senate, charged!)"
The narrator never discussed the headline and thumbnail's claim throughout the video's entire 11-minute run. The video noted criticisms thrown by netizens at Cayetano for his unfulfilled 2022 election promise of a P10,000 cash assistance for every family. 
The video also carried a thumbnail featuring the portraits of Marcos and Duterte holding up a piece of paper while a red arrow is pointed at it with the text "TANGGAL SA SENADO (Removed from Senate)!"
Superimposed on the thumbnail is the following text: 
"NA-SHOCKED (sic) SI ALAN SA BIGLAANG UTOS NI PBBM AT FPRRD (Alan is shocked by the sudden order of Marcos and Duterte)"
This is not true. There is no resolution filed or pending in the Senate seeking the removal of Cayetano from office. Nor had there been any official interview, speech, document nor any legitimate news reports related to this issue.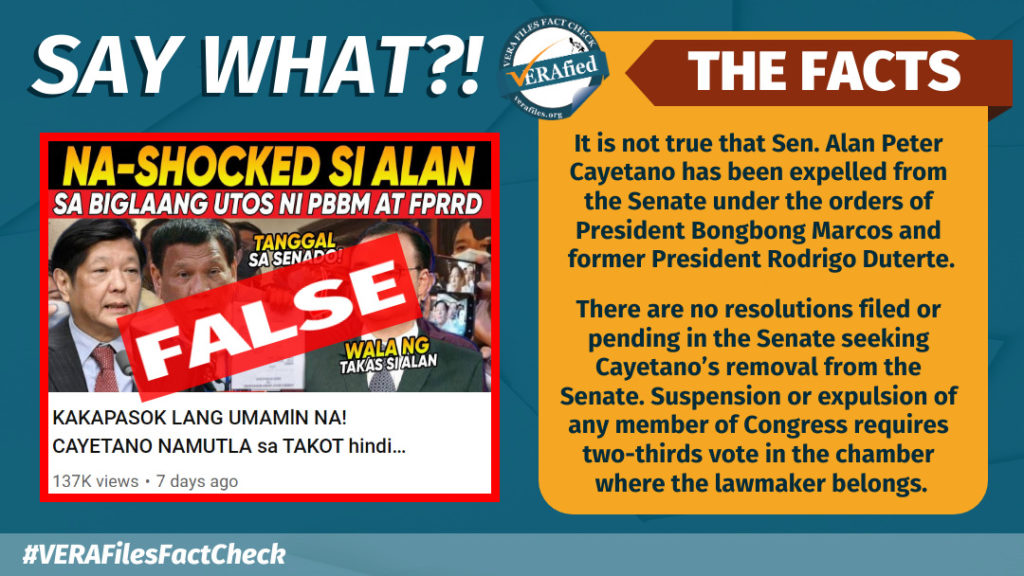 According to Article VI, Sec. 16 of the 1987 Constitution, only the two legislative chambers of Congress "can suspend or expel" their respective members, with the concurrence of a vote of two-thirds of the members of the chamber where the erring lawmaker belongs.
This video continued to circulate this week as Cayetano pushed for the bill he filed last year that seeks to provide better pay and regular employment status for barangay health workers.
YouTube channel PINAS NEWS INSIDER (Dec. 26, 2015) published the video, receiving over 137,000 views and 3,700 interactions. 
This channel has been flagged by VERA Files Fact Check several times. (Read Marcos DID NOT appoint Marcoleta as Agriculture secretary and Senate NOT abolishing K-12 program)
Have you seen any dubious claims, photos, memes, or online posts that you want us to verify? Fill out this reader request form or send it to 'VERA, the truth bot' on Viber.
(Editor's Note: VERA Files has partnered with Facebook to fight the spread of disinformation. Find out more about this partnership and our methodology.)