The Marcos administration has removed the anniversary of the 1986 EDSA People Power Revolution from the list of holidays for 2024 "because [it] falls on a Sunday." This misleads.
Executive Secretary Lucas Bersamin signed Proclamation 368, released last Oct. 13, by authority of President Ferdinand Marcos Jr.
STATEMENT
On the same day copies of the proclamation were released, Malacañang issued a statement on Facebook which reads: 
"The Office of the President maintains respect for the commemoration of the EDSA People Power Revolution. However, it was not included in the list of special non-working days for the year 2024 because February 25 falls on a Sunday.

 

There is minimal socio-economic impact in declaring this day as a special non-working holiday since it coincides with the rest day for most workers and laborers."
Source: Office of the President official Facebook account, Statement on not declaring EDSA People Power Revolution as a non-working holiday, Oct. 13, 2023
FACT
In the same proclamation, Dec. 8, which falls on a Sunday, was declared a special non-working holiday to celebrate the Feast of the Immaculate Conception.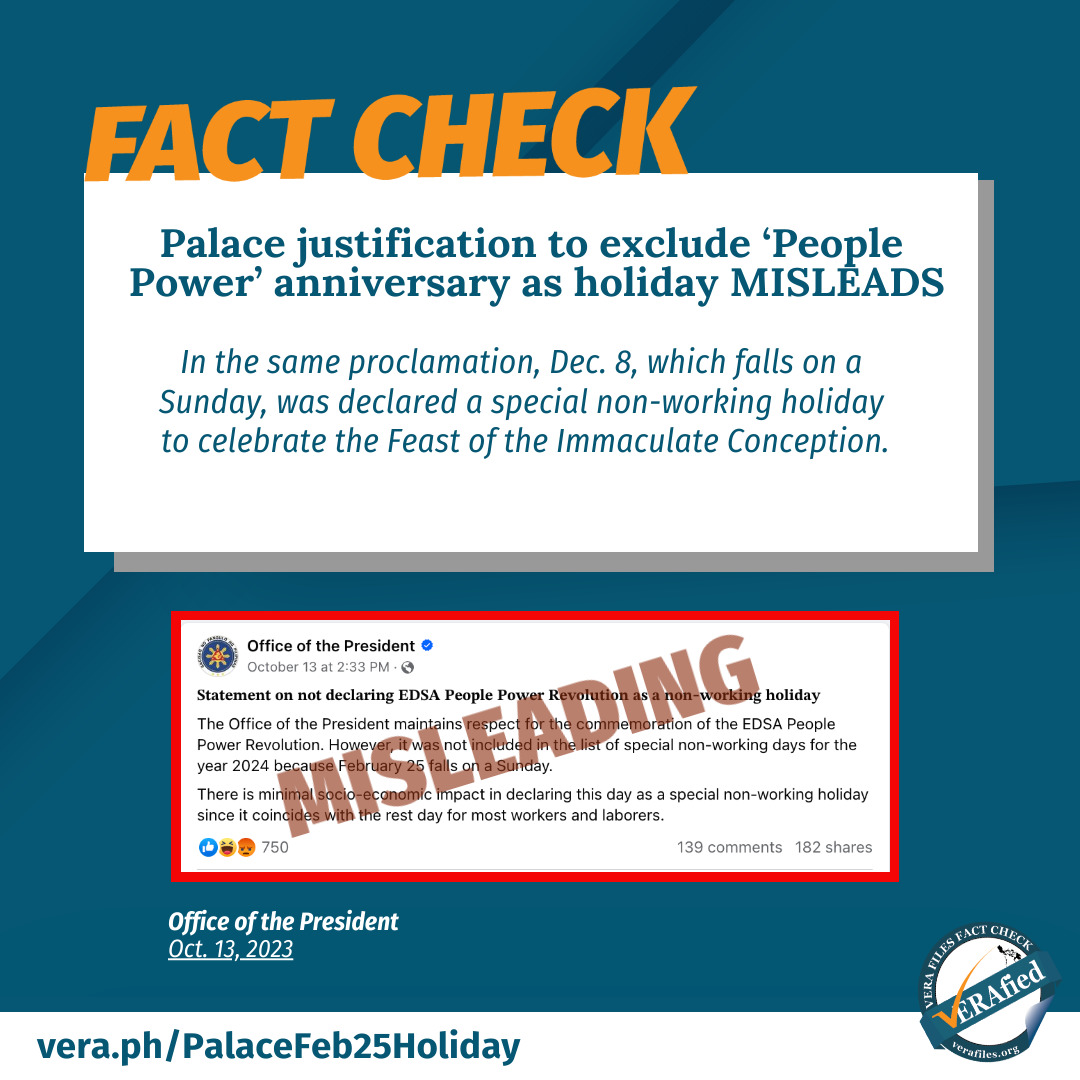 The last time the EDSA People Power Revolution anniversary fell on a Sunday was in 2018. Then president Rodrigo Duterte authorized the commemoration as a special non-working holiday through Proclamation 269. 
This is the Marcos administration's first year of declaring national holidays.
(Read VERA FILES FACT CHECK: Marcos admin flip-flops on Feb. 24-25 holiday declaration) 
Have you seen any dubious claims, photos, memes, or online posts that you want us to verify? Fill out this reader request form.
Sources
Official Gazette of the Philippines, Declaring the Regular Holidays and Special (Non-working) Days for the year 2018, accessed Oct. 13, 2023
Official Gazette of the Philippines, Declaring the Regular Holidays and Special (Non-working) Days for the year 2024, accessed Oct. 13, 2023